Entries Tagged as 'Israel'
אברהם זלמן בן
Rabbi, Rochester, New York
Date of Death: Tue. April 28, 2015 - d.1949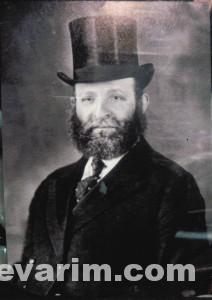 Photo Caption: Rabbi Avroham Zalman Kurtz, Credit: iVelt
Bio Information:
That Rav, a student of the Chafetz Chaim arrived here in 1924 from Bialystok  Poland. Also A student of Yeshivas Knesses Yisrael better known as Slabodk as well, he was ordained by Rav Moshe Mordechai Epstein. On these shores the Rav was an active member of the , Ezras Torah organization.
Tags: Har HaMenuchos Cemetery Jerusalem · Israel
בנימין אריה ב"ר חנוך הענאך
Rav, Wilmington, Delaware
Date of Death: Thu. May 22, 2003 - Iyar 20 5763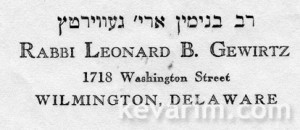 Photo Caption: Rabbi Leonard Benjamin Gewirtz letterhead. Credit: IFJCAH
Tags: Delaware · Eretz Hachaim Cemetery Beit Shemesh · Israel
נח ב"ר הכהן
Rosh Yeshiva, Rabeinu Chaim Ozer, Bronx, New York
Date of Death: Thu. October 23, 1958 - Cheshvan 9 5719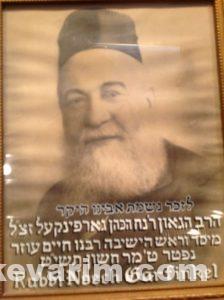 Credit: Reb Yitzchok Alter
noach 2
Credit: Reb Yitzchok Alter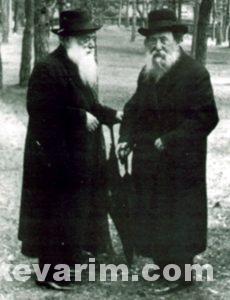 Photo Caption: Rav Chaim Ozer Grodzinski d. 1940 (right) conversing with Rav Shimon Shkop, Credit: N/N
Bio Information:
Located in the East Bronx on Bryant Ave and 177th Street, Yeshiva Rabeinu Chaim Ozer named for the Chief Rabbi of Vilna, Rav Chaim Ozer Grodzinski, existed from about 1945 until approx 1964. Around 1958 it relocated to Arthur Avenue in the West Bronx. While Rav Garfinkel was the Rosh yeshiva (Dean) one Mr. Zaretzky served as executive director. The yeshiva had grade 1-8 and taught in Yiddish.
Tags: Israel · Rosh Yeshiva
אלעזר מאיר ב"ר אלחנן
Chief Rabbi, Elizabeth, New Jersey
Date of Death: Wed. October 4, 1933 - Tishrei 14 5694
Erev Sukkos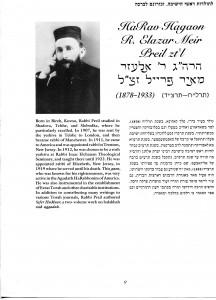 Photo Credit: Photo Caption: Picture and short bio of Rav Elozar Meir Preil , Credit: Yeshiva University
Bio Information:
Rav Pinchas Mordechai Teitz was his son-in-law and successor.
Tags: Eretz Hachaim Cemetery Beit Shemesh · Israel · New Jersey · Newark, NJ