Rabbi Aaron Chaim Sinai

אהרן חיים ב"ר ברוך
Rabbi, Congregation Knesses Yisroel, Minneapolis, Minnesota
Date of Death: Wed. September 9, 1903 - Elul 17 5663

Anyone with biographical information is asked to please send it in.
See CONTACT page for details. Thank you.
Cemetery:
Minneapolis Jewish Cemetery - Minneapolis
Directions to Kever: Minneapolis Jewish Cemetery maintains computerized records and will provide assistance upon request. Location: Needed
Biographical Notes: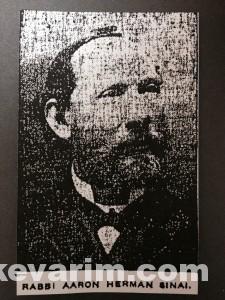 Photo Caption:  Rabbi Aaron Chaim Sinai,  Source: Minneapolis Journal, September 10, 1903
Bio Information: 
Rabbi Sinai was born in 1841 and came to the United States in 1858, where he was among the prominent Orthodox Rabbis of his time. For ten years he served as rabbi in Syracuse, NY before moving to  Congregation Knesses Yisroel in Minneapolis, Minnesota in 1883.