Rabbi Avroham Betzalel Epstein

אברהם בצלאל ב"ר צבי יעקב
Chief Rabbi, Republic of Estonia
Date of Death: Thu. September 1, 1938 - Elul 5 5698

Anyone with biographical information is asked to please send it in.
See CONTACT page for details. Thank you.
Cemetery:
Schachnus Beth Tefyla Cemetery - Cincinnati
Directions to Kever: Beth Tefyla Schachnus Cemetery is located in the Price Hill section of Cincinnati is part of the Jewish Cemeteries of Greater Cincinnati Association which maintains computerized records and will provide a detailed location map upon request. There are two entrances on Sunset that connect in the form of a "U". The entrances are shared entrances to both the Montefiore Cemetery and the Beth Tefyla Schachnus Cemetery. Location: Section: 1, Row: 12, Grave Number: 12
Name Listed on Cemetery Database: Name on marker: Betsalel
Biographical Notes: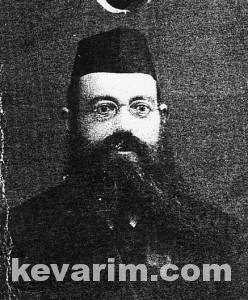 Photo Caption: Rav Avroham Betzalel Epstein, Credit: Ryan Shell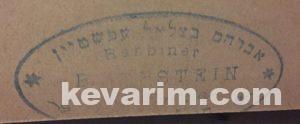 Credit: Institute For Judaic Culture and History (IFJCAH)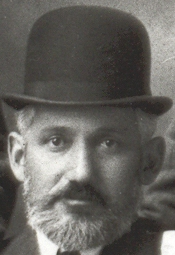 Photo Caption: The Rav's brther-in-law, Rev Avroham Chaim Goodman d. 1931. He was married to the Rav's sister Chaya Mushe and served as a shochet in Butler, PA. Credit: Ryan Shell
Bio Information:
Once in Cincinnati (1929), Rav Epstein  served at Congregation Bnai Yaakov which then merged with Agudas Israel (Golf Manor) in 1933. The Rav ran a Kashrus agencies which operated independently from Rav Eliezer Silver's Va'ad Hoier.
« Previous: Rabbi Avroham Shmuel Goldberger
Next: Rabbi Shimon Zimel Grubner »