Rabbi Chaim Nissan Sacks

חיים ניסן ב"ר שמריהו
Rav, Chelsea, Massachusetts
Date of Death: Sat. October 28, 1950 - Cheshvan 17 5711

Anyone with biographical information is asked to please send it in.
See CONTACT page for details. Thank you.
Cemetery:
Everett Jewish Cemeteries - Boston
Directions to Kever: Everett Jewish Cemeteries located just north of Boston, in Everett, Massachusetts is comprised of many smaller cemeteries (societies). Most are owned or managed by JCAM. Location: Chevra Tehilim Section

Name Listed on Cemetery Database: Zacks
Biographical Notes: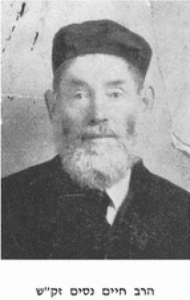 Photo Caption:  Rabbi Chaim Nissan Sacks, Credit: Nechunya
Bio Information:
The Rav served the city of Chelsea for close to 25 years.