Rabbi Menashe Margolis

מנשה ב"ר גבריאל זאב
President, Knesseth HaRabonim
Date of Death: Wed. June 2, 1954 - Sivan 1 5714
Rosh Codesh
Anyone with biographical information is asked to please send it in.
See CONTACT page for details. Thank you.
Cemetery:
Old Montefiore Cemetery - Queens
Directions to Kever: Old Montefiore Cemetery in Queens maintains computerized records and will provide a detailed location map upon request. Location: Section: United Hebrew Community, along Carmel Avenue, between North 9 and North 10th Street. (alongside his father, Rav Velvel, see map below)
Name Listed on Cemetery Database: MARGOLIS, MENASHE
Biographical Notes: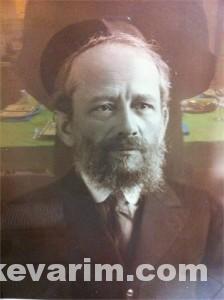 Photo Caption: Rabbi Menashe Margolis, Credit: Needed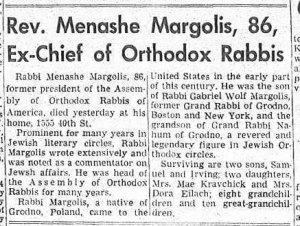 Photo Caption: Obituary in the Brooklyn Eagle, June 3, 1954 announcing the passing of Rav Menashe Margolis
Bio Information:
Following the passing of his father, Rav  Menashe Margolis assumed the presidency of the Knesseth HaRabonim HaOrthdoksim dAmerica vCanada. The organization ceased operations with the Rav's passing.