Rabbi Mordecai Yaakov Golinkin

מרדכי יעקב ב"ר ראובן
Rosh Bais Din, Vaad Harobonim of Massachusetts
Date of Death: Wed. December 3, 2014 - Kislev 19 5735

Anyone with biographical information is asked to please send it in.
See CONTACT page for details. Thank you.
Cemetery:
Chevra Kadisha - Sons of Jacob Cemetery - Worcester
Directions to Kever: Chevra Kadisha - Sons of Jacob Cemetery in Worcester, Massachusetts
Name Listed on Cemetery Database: Name listed on marker: Rabbi Mordechai Golinkin
Biographical Notes: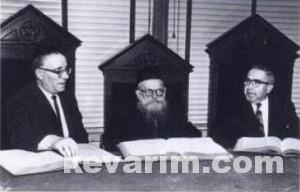 Photo Caption: Rabbi Mordecai Yaakov Golinkin (C), Credit: Needed
Bio Information: 
Prior to his arrive to the United States Rabbi Mordecai Yaakov Golinkin server various communities in Eastern Europe, among them Ryzhany (a suburb of Zhitomir, Ukraine) and Dokshitz (Belarus). During the 1930's he was in Danzig and managed to escape as the Nazi's were closing that city. Upon his arrival to these shores he settled in Worcester, MA where he was soon considered the cities chief rabbi.