Rabbi Moshe Yosef Rubin

משה יוסף ב"ר פינחס מנחם
Chief Rabbi, Câmpulung Moldovenesc, Romania
Date of Death: Fri. February 22, 1980 - Adar 5 5740

Anyone with biographical information is asked to please send it in.
See CONTACT page for details. Thank you.
Cemetery:
Washington Floral Park Cemetery - Deans
Directions to Kever: Washington Floral Park Cemetery, also known as Deans Cemetery located in Monmouth Junction, New Jersey maintains computerized records and will provide a detailed location map upon request. Location: Bobover section, North Second Street corner of Park Blvd.
Biographical Notes: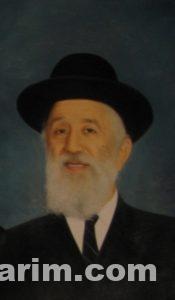 Photo Caption: Rabbi Moshe Yosef Rubin, Credit: [Mojoru at English Wikipedia]
Bio Information: 
Rav Rubin served as the President and Chairman of the Agudas Israel and Agudath HaRabonim of Romania. The Rav also founded Geder Avos an organization dedicated to stopping the destruction of Jewish cemeteries throughout Eastern Europe.