Rabbi Moshe Stren

משה ב"ר אברהם
Chief Rabbi, Debrecen, Hungary
Date of Death: Tue. August 5, 1997 - Av 2 5757

Anyone with biographical information is asked to please send it in.
See CONTACT page for details. Thank you.
Cemetery:
Beth Israel Cemetery - Woodbridge
Directions to Kever: Beth Israel Cemetery, also, know as Woodbridge Memorial Gardens located along US Highway 1 in Woodbridge, New Jersey. Gate hours are officially 8:30 – 4:30 but will remain open until sunset (6:30 during the summer). In addition, Beth Israel maintains computerized records and will provide a detailed location map upon request. Location: Section: Debrecen, located close to the back entrance of the cemetery.
Biographical Notes: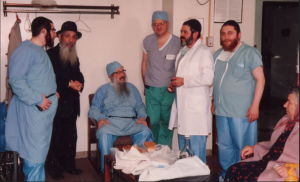 Photo Caption: Rav Moshe Stern (seated), Credit: Joel Rosenfeld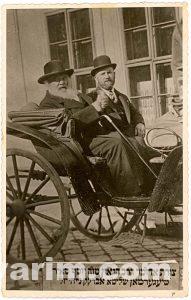 Photo Caption: Rav Moshe Stern's grandfather, Rav Yosef  Meir Tiegerman, HY'D, (m. June 17, 1944, in Oshpitzin), Cheif Rabbi, Nove Zamky, Czechoslovakia, Credit: N/N
« Previous: Rabbi Chaim Meisels
Next: Rabbi Chaim Michael Dov Weissmandl »