Rabbi Tzvi Hirsh Meisels

צבי הירש ב"ר דוד דוב
Chief Rabbi, Veitzen, Hungary
Date of Death: Sat. January 19, 1974 - Teves 25 5734

Anyone with biographical information is asked to please send it in.
See CONTACT page for details. Thank you.
Cemetery:
Washington Floral Park Cemetery - Deans
Directions to Kever: Floral Park - Washington Cemetery in Deans, NJ maintains computerized records and will provide a detailed location map upon request. Location: Satmar Section, next to the ohel of Rav Yechezkel Mertz (Not the office side of the cemetery)

Biographical Notes: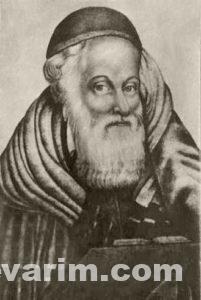 Photo Caption: Rebbe Moshe Teitelbaum of Ujhely, d. 1841, better  known as the Yismach Moshe, Credit:  Needed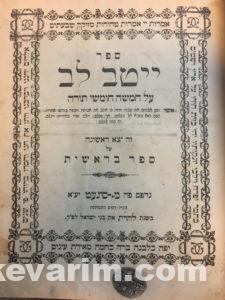 Photo Caption: First edition title page, Yetev Lev, authored by Rebbe Yekusiel Yehuda Teitelbaum of  Siget, d. 1883, Credit: IFJCAH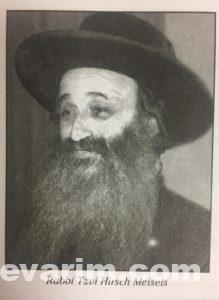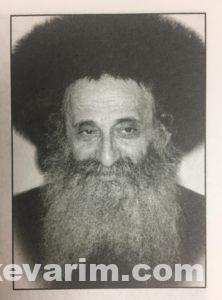 Photo Caption: Rav Tzvi Hirsh Meisels, Credit: N/N
Bio Information:
Prior to becoming Chief Rabbi of Veitzen in 1930, the Rav led the Jewish community of Neimark, Galicia. In Neimark, the Rav headed a yeshiva with hundreds of students. In 1944, the Rav along with his entire community was deported to Auschwitz. After his liberation he was appointed Chief Rabbi of the Bergen-Belsen German/British Section DP Camp where he established Yeshiva Shearis Yisroel. In 1946, upon the encouragement  of his brother-in-law Rebbe Shlomo Halberstam, Bobover Rebbe he settled in Chicago, Illinois.
« Previous: Rebbe Yisroel Twersky
Next: Rabbi Yosef Moshe Meisels »