שמחה ב"ר גרשון יצחק הלוי
Rav, Perth Amboy, New Jersey
Date of Death: Thu. May 2, 1968 - Iyaar 4 5728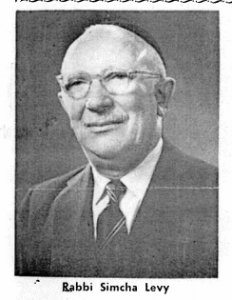 Source: Rabbinical Alumni Chavrusa, June, 1961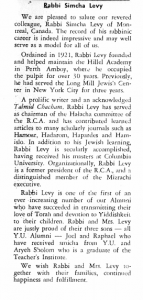 Source: Rabbinical Alumni Chavrusa, June, 1961

Tags: Canada · Montreal, QC
צבי ב"ר חיים הכהן
President, Montreal Council of Orthodox Rabbis
Date of Death: Fri. November 17, 1950 - Kislev 8 5711


Photo Caption: Rabbi Tzvi Hirsch Cohen. Credit: Needed


Photo Caption: Rabbi Tzvi Hirsch Cohen at a meeting with other rabbonim in Montreal. Credit: Needed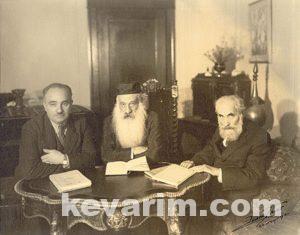 Photo Caption: (L-R): Journalist Mordecai Ginzburg, Rabbi Zvi Hirsch Cohen, Reuben Brainin, c.1938, Source: Jewish Public Library

Tags: Canada · Montreal, QC
יעקב אריה ב"ר יצחק דוד
Rav, Montreal, Canada
Date of Death: Mon. January 30, 1950 - Shevat 12 5710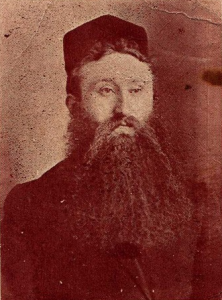 Photo Caption:  Rabbi Yaakov Aryeh Colton, Credit: Canadian Jewish Congress Charities Committee National Archives
Bio Information:
Rabbi Yaakob Aryeh Colton was the primary mohel (ritual circumciser) for Montreal and the surrounding area c. 1918 – 1945
Tags: Canada · Montreal, QC
שמחה ב"ר מרדכי
Rav, Congregations Chevra Tehilim, Montreal, Canada
Date of Death: Sat. October 11, 1924 - Tishrei 13 5618

Tags: Canada · Montreal, QC
רפאל צבי ב"ר מרדכי יוסף הלוי
Rav, Montreal, Canada
Date of Death: Tue. September 17, 1957 - Elul 21 5717

Tags: Canada · Montreal, QC
דוד ב"ר זאב דוב
Chief Rabbi, Greater Sudbury, Ontario, Canada
Date of Death: Fri. February 24, 1922 - Shevat 10 5682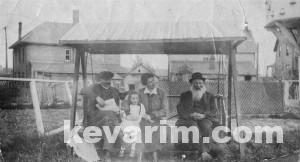 Photo Caption: Hascal and Annie Moses née Wichefsky  with daughter Rita and Rabbi David Wichefsky in the Moses family's backyard, c. 1910, Credit: Ontario Jewish Archives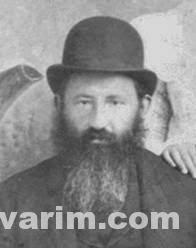 Photo Caption: Rabbi David Wichefsky, Credit: Lloyd Donald Friedman
Bio Information:
The Rav, born in Dubrovna, Belarus a small town along the Dnieper River in 1857, studied in the famed Volozhiner Yeshiva. In 1892, after moving to the United States he settled in New Bern, North Carolina where he rabbinated for two years. He then relocated to Greater Sudbury in Canada. It was under the guise that he was going to a growing Jewish community that he made the move. Upon his arrival it was apparent that the community size was greatly embellished. Nevertheless he stayed. After retiring he to be with his children.
Tags: Canada · Chief Rabbi · Montreal, QC
אהרן אלימלך ב"ר יהודה יודל
Baal Lkutei Bais Aaron
Date of Death: Thu. January 14, 1960 - Teves 14 5720

Tags: Canada · Montreal, QC
יהודה יודל ב"ר ישראל יצחק
Tarler Rebbe
Date of Death: Wed. October 23, 1935 - Tisrei 26 5696

Rebbe Rosenberg also known as the Skaraschev Illu translated the Zohar into Hebrew.
Tags: Admorim · Canada · Montreal, QC