אברהם ב"ר יצחק
Rav, Birmingham, England
Date of Death: Wed. April 15, 1903 - Nissan 18 5663

Tags: Beth Olam · New York · Queens / L.I., NY
שלמה ב"ר יהושע
Rav, Congregation Shearith Israel
Date of Death: Sat. January 13, 1855 - Teves 23 5615

Tags: Beth Olam · New York · Queens / L.I., NY
יעקוב ב"ר יהודה
Minister, Congregation Bais Shalom, Richmond, VA
Date of Death: Mon. August 13, 1877 - Elul 4 5637

Minister, son of Yehuda Lyons, born in Surinam, Dutch Guiana, Aug. 25, 1814. He was educated in Surinam, and was minister of the Spanish & Portuguese congregation there, Neveh Shalom, for five years. He left Surinam in 1837 and went to Richmond, VA, where for two years he was minister of the Congregation Beth Schalom. In 1839 he was elected minister of the Spanish and Portuguese congregation Shearith Israel, New York City and served the congregation thirty-eight years, successfully combating every movement to change the form of worship in his congregation.
Tags: Beth Olam · New York · Pre 1900 · Queens / L.I., NY
יוסף מאיר ב"ר אשר
Congregation Orach Chaim, New York City
Date of Death: Tue. November 9, 1909 - Cheshvan 25 5670

Tags: Beth Olam · New York · Queens / L.I., NY
חיים ב"ר אברהם
President and Co-founder, Orthodox Union (OU)
Date of Death: Wed. October 20, 1937 - Cheshvan 15 5698

Rav Mendes an early pioneer, upholding true Torah values in the United States was the Moreh Dasrah of Congregation Shearith Israel (The Spanish & Portuguese Synagogue). The Rav, also served as the president of the Union of Orthodox Jewish Congregations of America (UOJCA). The UOJCA now goes by the name Orthodox Union or OU for short. The goal of the UOJCA was to establish a united voice for America Orthodoxy.
In Memorial 
Dr. Abraham Goldstein
Co-founder, Orthodox Union (OU)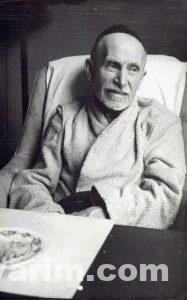 Photo Caption: Dr. Abraham Goldstein, Credit: Courtesy Goldstein Family Collection

Tags: Beth Olam · New York · Queens / L.I., NY
ישראל דוב ב״ר אשר
Talmid of Rav Nosson Adler of Frankfurt am Mein
Date of Death: Fri. April 30, 1852 - Iyar 11 5612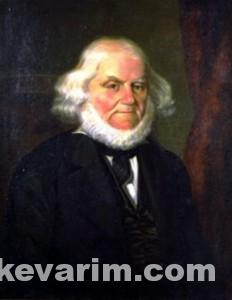 Photo Caption: Portrait of Rev Israel Ber Kursheedt, Photo origination: onthemainline
Bio Notes:
Rev Yisroel Ber Kursheedt is the only known talmid (student) of Rav Nosson Adler the Rebbe of the Chasam Sofer to be buried in the United States. Rev Kursheedt was a contemporary of Rav Avroham Bing and Rav Wolf Heidenheim. It is reported that Rav Adler held these three students in equal esteem and was quoted to have said Avroham is a charif, Wolf is a medackdek, and Yisroel is a chochem.
Tags: Beth Olam · New York · Pre 1900 · Queens / L.I., NY