Rabbi Asher Lippman Zarchi

אשר ליפמן ב"ר הלל
Chief Rabbi of Louisville, KY
Date of Death: Tue. June 21, 1932 - Sivan 20 5692

Anyone with biographical information is asked to please send it in.
See CONTACT page for details. Thank you.
Cemetery:
Keneseth Israel Cemetery - Louisville
Directions to Kever: Keneseth Israel Cemetery located along Locust Lane in Louisville, KY. There are other cemeteries located there as well each independently owned and operated. Location: Needed
Biographical Notes: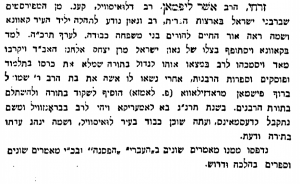 Source: Eisenstadt

Bio Information:
Rav Zarchi was born in Kovno studied in Volozhin, both before and after his marriage. The Rav was ordained by Rav Yitzchok Elchonon Spector, Rav Yitzchok Meir of Slobodka, and Rav Chaim Segal of Yanova. In 1891, he settled in Brownsville, Brooklyn and soon after Des Moines, IA. During his years in Iowa the Rav became a founding member of the Agudath Harabonim and was extremely influential in guiding its policies. In 1903, he was appointed Chief Rabbi of Louisville, where he had oversight authority of the cities, synagogues, kashrus, and school systems. Sadly, the Rav passed away childless at the age of 68. In 1946, the Nachalat Zarchi settlement in Eretz Yisroel was established in his memory. While the Rav did not print any seforim, many of his original torah thoughts appeared in the well known HaMeasif magazine.
« Previous: Rebbe Eliezer Paltiel Roitblat
Next: Rebbe Yaakov Yisroel Twersky »