Rabbi Avroham Abush Guranowsky

אברהם אבוש ב"ר ישראל
Rav, Congregation Beth Israel Synagogue (West Side Jewish Center), New York City
Date of Death: Thu. September 19, 1912 - Tishrei 8 5673

Anyone with biographical information is asked to please send it in.
See CONTACT page for details. Thank you.
Cemetery:
Washington Cemetery - Brooklyn
Directions to Kever: The Washington Cemetery in Brooklyn, New York maintains detailed burial records and will provided assistance upon request. Location: Cemetery: 1, Post: 62, Row: 1, Grave: 6. Society: Beth Israel Congregation
Name Listed on Cemetery Database: Name listed on marker: Rabbi Abraham Guranowsky
Biographical Notes: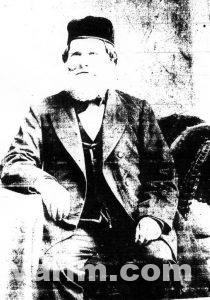 Photo Caption: Rabbi Yisroel Guranowsky (father), Credit: Mark Berger, New Rochelle
Bio Information
Rabbi Guranowsky was a founding force behind the establishment of Beth Israel Hosptial.