Rabbi Avroham Yisroel Shechter

אברהם ישראל ב"ר יחיאל מיכאל הלוי
Rav, Congregation Bnai Yaakov Providence, Rhode Island
Date of Death: Sat. September 5, 1936 - Elul 18 5696

Anyone with biographical information is asked to please send it in.
See CONTACT page for details. Thank you.
Cemetery:
Lincoln Park Cemetery - Rhode Island
Directions to Kever: Lincoln Park Cemetery located in Warwick, Rhode Island maintains computerized burial records and will provide a detailed location map upon requests. The city of Warwick is located approximately 12 miles south of downtown Providence. Location: Section: Sons of Zion – 2G, corner of Rubenstein and Bick Avenue, near Shatkin Avenue
Biographical Notes: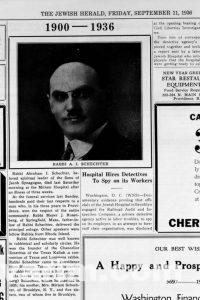 Source: The Jewish Herold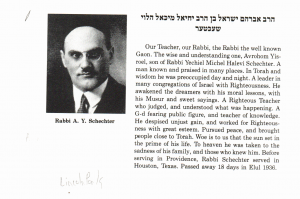 Source: Chachmei Yisroel of New England
Bio Information:
Prior to Providence, Rabbi Schecter rabbinated in Houston, Texas. He was married to the daughter of Rabb Meir Yehoshua Rosenberg of the United Orthodox Congregations, Hartford, Connecticut, sadly he died without children.
« Previous: Rabbi Pinchos Michel Baggish
Next: Rabbi Dovid Yosef Schick »