Rabbi Chaim Dovid Borofsky

חיים דוד ב"ר אברהם אבא
Dean, Talmud Torah of Saint Joseph, Missouri
Date of Death: Fri. July 11, 1930 - Tammuz 15 5690

Anyone with biographical information is asked to please send it in.
See CONTACT page for details. Thank you.
Cemetery:
Shaare Sholem Cemetery - Saint Joseph
Directions to Kever: Shaare Sholem Cemetery is located in Saint Joseph, Missouri along Arlington Ave. Location: Section: 3
Name Listed on Cemetery Database: Name listed on marker: Hyman David Borofsky
Biographical Notes: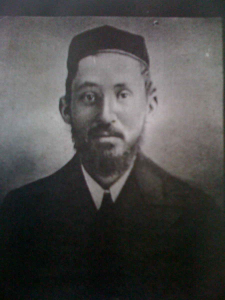 Photo Caption: Rabbi Chaim David Borofsky
Bio Information:
The Rav was born in 1846.
« Previous: Rabbi Moshe Reuvain Yoelson
Next: Rabbi Yeshaya Rubin »