Rabbi Dovid Snierson (Schneersohn)

(דוד ב"ר חיים שניאור (שנייער
Rav, Sons Of Israel Synagogue, Laconia, New Hampshire
Date of Death: Sat. February 20, 1954 - Adar I 17 5714

Anyone with biographical information is asked to please send it in.
See CONTACT page for details. Thank you.
Cemetery:
Manchester Hebrew Cemetery - New Hampshire
Directions to Kever: The Manchester Hebrew Cemetery is located at 303 S Beach Street in Manchester, New Hampshire.
Name Listed on Cemetery Database: Name listed on marker: David Snierson
Biographical Notes: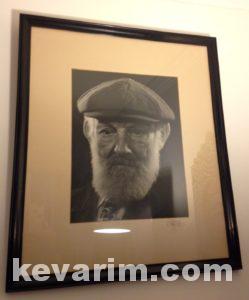 Photo Caption: Rabbi Dovid Snierson, Credit: Elaine Sneirson Savin
From the TBI website: 
Although there may have been other Jews who settled earlier in Laconia, NH the first practicing Jew of note was David Snierson who arrived here in 1902. He had been a Talmudic Scholar in the old country and became the Spiritual Leader of the group of Jews who came and settled in the Laconia area in the early 20th century. Reb. Snierson taught Hebrew School, Bar Mitzvah students, and made decisions about Rabbinic Law and Kashrut. He led services for Shabbat and Holidays and imported and sold Kosher meat that was brought to Laconia from Manchester by train.
In 1920 David Snierson was hired by what became known as Sons of Israel, the Orthodox Synagogue as it's first rabbi. He led Shabbat Services in homes and High Holiday Services were held at the Knights of Columbus Hall and other large gathering places. The Rav died in 1954.