Rabbi Eliyahu Gordon

אליהו ב"ר דוד זאב
Rav, Bronx, New York
Date of Death: Mon. December 19, 1932 - Kislev 20 5693

Anyone with biographical information is asked to please send it in.
See CONTACT page for details. Thank you.
Cemetery:
Riverside Cemetery - Saddle Brook
Directions to Kever: Riverside Cemetery in Saddle Brook, NJ maintains computerized records and will provide a detailed location map upon request.
Name Listed on Cemetery Database: Name listed on marker: Rabbi Elijah Gordon
Biographical Notes:
Bio Infomation: 
The Rav who authored many seforim (books) served in the city of Vilna (Vilnius, Lithuania) prior to his arrival on these shores.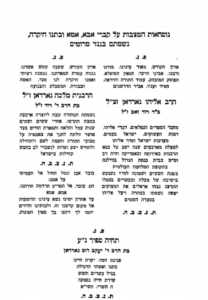 « Previous: Rabbi Yechial Michiel Somit
Next: Rabbi Simcha Eliyahu Chipkewitz »