Rabbi Yosef Moshe Aaronsohn (Gadskinck)

יוסף משה ב"ר אהרן
East Broadway Maggid, New York City and Chicago, Illinois
Date of Death: Fri. September 24, 1875 - Elul 25 5635

Anyone with biographical information is asked to please send it in.
See CONTACT page for details. Thank you.
Cemetery:
Har Hazesim (Mount of Olives) Cemetery - Jerusalem
Directions to Kever: It is assumed that the Rav Aaronsohn was buried somewhere in or near Chicago, as that is where he passed away. Please help us find his kever, any information is appreciated. His wife, Rebbetzin Leba who moved to Israel (then Palestine) after the Rav's passing is buried on Har Hazesim.
Name Listed on Cemetery Database: Mystery !!!!!!!
Biographical Notes:
A SPECIAL THANKS TO THE MEMBERS OF MORESHES CHACHMEI AMERICA, MR. ASHLEY DWORSKY, & RABBI JOSEPH SCHANOWITZ OF CHICAGO FOR THEIR COUNTLESS HOURS OF RESEARCH IN THE ONGOING SEARCH TO LOCATE RAV AARONSOHN'S KEVER.   
Bio Information:
Rav Aaronsohn was born in 1805 and served as a maggid (preacher) in several Eastern European towns among them Mir before arriving in New York in 1860. The Rav arrived on these shores form Liverpool, England on September 19, 1861 aboard the Kangaroo Steamship as "Moses Gadskinck". In 1864 he was appointed rabbi of Congregation Adath Jeshurun in New York City. He eventually settled in Chicago where he passed away on September 24, 1875 (not on August 25 of that year). Among the Rav's printed seforim is Pardes ha-Chochma, Pardes ha-Bina, and Mattei Moshe. Of the Rabbi's known relatives was his wife Libbie, who moved to Jerusalem and is buried at the Mount of Olives Cemetery. His daughter Sarah (d. April 1905) lived in New York City and was married to Raphael Leib Mandelbaum (d. April 1897). Both are interred at Bayside along Pitkin Avenue in Queens. They had a son named Isaac, who is mentioned in the Rav's will.  The Rav's oldest son Aaron Ben Tzion Bentson lived in Marion, Indiana. Another son David S. Benson (d. 1833), a carriage trimmer who lived in Indianapolis is buried at Indianapolis Hebrew Congregation Cemetery South. One, Michael (M.S.) Benson was married to Esther (interment: Springdale Cemetery, Madison, Indiana) they had two children Joseph M and Dora.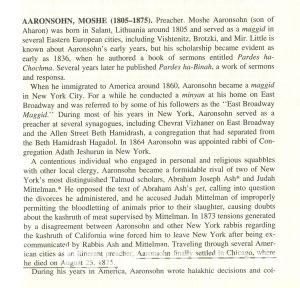 Credit: Orthodox Judaism in America, Moshe D Sherman



Credit: Moreshes Chachmei America's Archives OF NOTE: Rav Aaronsohn was also known as Rav Moshe Salanter. 



Photo Caption: Inauguration of Rav Aaronsohn to the shul at 78 Allen Street, Source: The Jewish Messenger  September 26 1861



Photo Caption: Announcing that Rav Aaronsohn will deliver a eulogy for the Late Rav Avroham Rice of Baltimore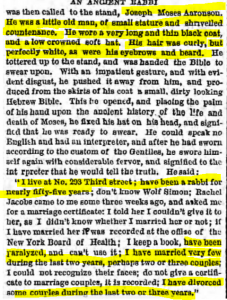 Source: Needed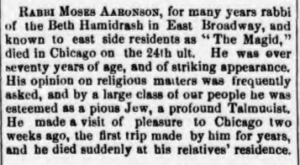 Photo Caption: Death notice of Rav Aaronsohn in Chicago, Credit: The Jewish Messenger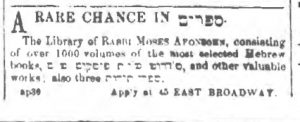 Photo Caption: Announcing the sale of the (late) Rabbi's library in New York City, Credit: Needed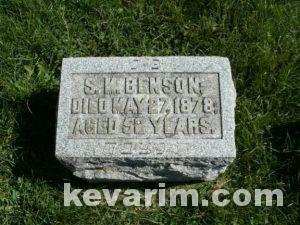 Photo Caption: The Rav's grandson (along with other family members) buried at Springdale Cemetery in Madison, Indiana.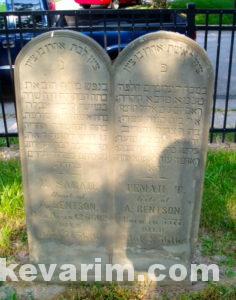 Photo Caption: Marker of  Rav  Yosef Moshe's daughter-in-law and granddaughter (Thema Tova and Chai Sarah) at the Jewish Bryner Cemetery located at 1915 Wilson Avenue in Madison, Indiana (there are all of 22 interments at the cemetery), Credit: Quietude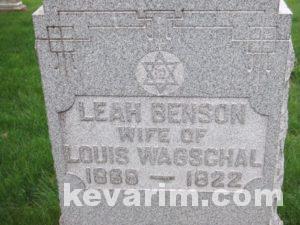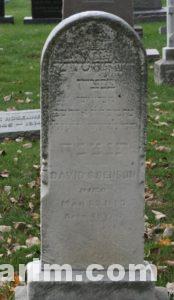 Photo Caption: Other family members interred at Kelly Street Historic Jewish Cemeteries in Indianapolis, Indiana. Credit: Ashley Dworsky and Rabbi Joseph Schanowitz of Chicago
« Previous: Rabbi Lieber Marvit
Next: Rebbe Eliezer Fish »