Rabbi Nosson Nuto Klein

נתן נטע ב"ר שלמה הכהן
Rav, Beth Israel Synagogue of Winsted, Connecticut
Date of Death: Sun. March 3, 1946 - Adar I 30 5706

Anyone with biographical information is asked to please send it in.
See CONTACT page for details. Thank you.
Cemetery:
Sons of Jacob Cemetery - Torrington
Directions to Kever: The Sons of Jacob Cemetery is a small cemetery located along Winsted Road in Torrington, Connecticut. The cemetery is covered by heavy foliage and can easily be missed. It is also known as Beth Israel Cemetery.
Name Listed on Cemetery Database: Name listed on marker: Rabbi Nathan Klein
Biographical Notes: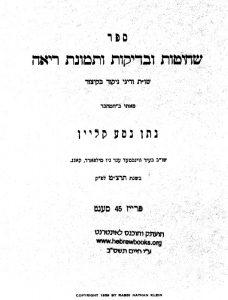 Photo Caption: Title page of Rabbi Klein's safer, Credit: Hebrewbooks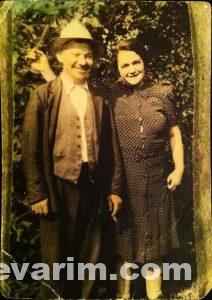 Photo Caption: Rabbi and Rebbitzin Klein, Credit: Marion Zweiter / Chaim Motzen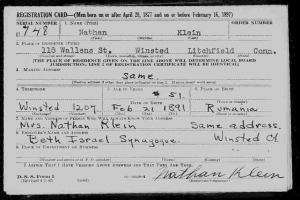 Credit: MCA
« Previous: Rebbe Avroham Shapiro
Next: Rabbi Yisroel Isser Levine »