Rev Shabtai Sabato Morias

שבתי
Rav, Congregation Mikveh Israel, Philadelphia, PA
Date of Death: Thu. November 11, 1897 - Cheshvan 17 5659

Anyone with biographical information is asked to please send it in.
See CONTACT page for details. Thank you.
Cemetery:
Congregation Mikveh Israel Federal Street Cemetery - Philadelphia
Directions to Kever: Congregation Mikveh Israel Federal Street Cemetery is located in Philadelphia, The cemetery is open to the public only once a year on the Sunday before Yom Kippur. For other times or a private tour contact the Mikveh Israel office at (215) 922-5446 or via email: info@mikvehisrael.org. Location: Row: 6, Grave:5
Name Listed on Cemetery Database: Morias
Biographical Notes: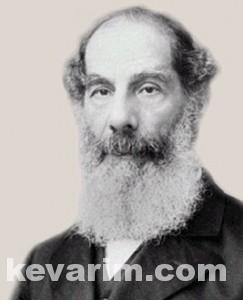 Photo Caption: Rev Shabtai Sabato Morias, Credit: English Hebraica
Bio Information:
Hazan of Mikveh Israel 1851-1897: noted for his anti-slavery sermons. Involved in the education of children and adults, he worked for the Hebrew Sunday School Society, the Hebrew Education Society and the Young Men's Hebrew Association (YMHA). A founder and first president of the Jewish Theological Seminary and professor of Bible there. He worked in behalf of Russian immigrants, settling disagreements between workers and employers.
Adapted: from the Congregation Mikveh Israel website.
« Previous: Rabbi Eliezer Kleinberg
Next: Rabbi Chaim Yehuda Leib Klein »