Rabbi Slomo Zalman Krevsky

שלמה זלמן ב"ר שמעון
Chief Rabbi, Allentown, Pennsylvania
Date of Death: Sat. April 10, 1954 - Nissan 7 5714

Anyone with biographical information is asked to please send it in.
See CONTACT page for details. Thank you.
Cemetery:
Congregation Sons of Israel - Allentown
Directions to Kever: Congregation Sons of Israel Cemetery also known as Agudas Achim and Shaarei Sholom Cemetery is located in Fullerton, Pennsylvania. Fullerton is a suburb of Allentown. Location: Past the fence in the Agudas Achim Section
Biographical Notes:

Credit: Institute For Judai Culture and History (IFJCAH)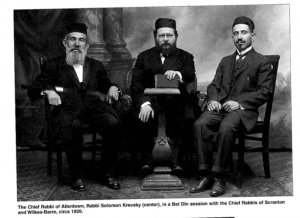 Photo Caption: See inscription, (L) Rabbi Yisroel Shlomo Zalman Baurer of Wilkes-Barre, (C) Rabbi Shlomo Zalman Krevsky, (R) Needed, Credit: Congregation Sons of Israel
Bio Information: 
Rav Krevsky was a longtime member of the Agudath Harabonim.