Rabbi Yehuda Eliezer Anixter

​​יהודה אליעזר ב"ר יצחק אייזיק
Rav, Beth Medrash Hachodosh, Chicago, Illinois
Date of Death: Sat. July 18, 1914 - Tammuz 24 5674

Anyone with biographical information is asked to please send it in.
See CONTACT page for details. Thank you.
Cemetery:
Waldheim Cemetery - Chicago
Directions to Kever: Waldheim Cemetery in Chicago maintains computerized records and will provide a detailed location map upon request. Location: Gate: 26 – Beth Medrash Hachodosh – Lot: 31, Section: 1, Row: 35, Grave: 10
Name Listed on Cemetery Database: Name listed on marker: Rabbi Lazarus Anixter
Biographical Notes: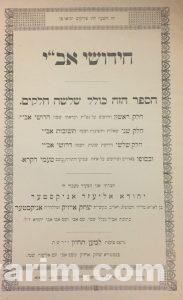 Credit: IFJCAH



Anixter Part 1
Photo Credit: The Jewish Morning Journal, August 29, 1906



NLI-Article (100) (1)
Photo Credit: The Jewish Morning Journal, September 1, 1906

Bio Information:  
Rav Anixter was born in 1829 in Panemune, Lithuania and studied in Kalvariya. After his marriage to the daughter of Rav Henoch Weinstein (Dayan – Judge of Kalvariya) he served as the Rabbi of Anikst. In c.1869 he emigrated to England and shortly thereafter to the United States and settled in New York City. The Rav unsuccessfully tried his hand at business but eventually (1878) accepted a Rabbinate position in Chicago at the Beth Medrash Hachodosh. It is in all likelihood that he was the first ordained Orthodox rabbi in Chicago of Eastern European decent. In 1888, he took a position in Rochester, NY at Congregation B'nei Aviezer only to return to Chicago in 1891 where he resumed his previous position. Among his seforim (books) is Chidushei Avi with beautiful approbations. He died at age 82.
« Previous: Rabbi Aryeh Leib Plotkin
Next: Rabbi Reuvain Leib Rothstein »