Rabbi Yitzchok Dovid Essrig

יצחק דוד ב"ר נחום
Chief Rabbi, Utica, New York
Date of Death: Wed. February 18, 1976 - Adar I 17 5736

Anyone with biographical information is asked to please send it in.
See CONTACT page for details. Thank you.
Cemetery:
Young Israel Cemetery - Norwalk, California
Directions to Kever: Young Israel Cemetery located just outside of downtown Los Angeles in Norwalk, California maintains detailed burial records and will provided assistance upon request.
Name Listed on Cemetery Database: Name listed on marker: Rabbi Isaac David Essrig
Biographical Notes: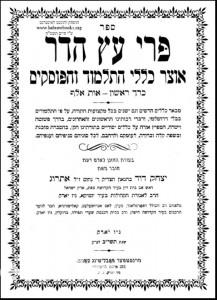 Photo Caption: Title page of Rabbi Yitzchok Dovid Essrig safer, Credit: Hebrewbooks
Bio Information:
In addition to Utica, New York, Rav Essrig who was originally from Eretz Yisroel served in Portland, Maine, 1918-1926 and Los Angeles,California, 1926-1933. He was also a member of the Chief Rabbinate of Haifa, Israel, 1933-1936, and Brooklyn, New York, 1937-1964, and finally  Redondo Beach,California.

« Previous: Rabbi Meir Tzvi Kogen
Next: Rabbi Aaron Dovid Reep »