Entries Tagged as 'Pre 1900'
Rav, New York City d. 22 Kislev, 1896 (5657) Anyone with biographical information is asked to please send it in. See CONTACT page for details. Directions to kever: Bayside Cemetery 80-35 Pitkin Avenue Ozone Park, NY 11417 212-874-7005 (Gate: 55, alongside the kever of Rav Yehuda Barit) The cemetery is in disarray, use caution when […]
Tags: Needs Repair · New York · Pitkin Avenue Cemeteries · Pre 1900 · Queens / L.I., NY
ישראל ב"ר אליהו
Rav, New York City
Date of Death: Mon. November 28, 1898 - Kislev 14 5659

Tags: Brooklyn / S.I., NY · New York · Pre 1900 · Washington Cemetery (Brooklyn)
ישכר דוב ב"ר יעקב ליב
Rav, Congregation Shearith Yisroel
Date of Death: Thu. June 22, 1871 - Tammuz 3 5631

Rav Illowi was ordained by Rav Moshe Schreiber, the Chasam Sofer and was among the first Rabbanim to serve in the United States. From the time of his arrival on these shores in 1853 until his passing, the Rav spent his time fighting to influence and uphold true Torah values in North America. The Rav is famous for his halachic ruling on the kashrus of Muscovy duck.
Tags: Chief Rabbi · Cincinnati, OH · Needs Repair · Ohio · Pre 1900 · Rosh Yeshiva
יצחק ב"ר אליהו
Rav, Cong B'Nai Yisreol – Pike Street Synagogue
Date of Death: Thu. August 4, 1887 - Av 14 5646

Bio Information:
Prior to arriving on theses shores, Rav Morgolis served in the town of Merkine, Lithuania and was a descendant of  Rav Yom Tov Lipmann Heller d. 1654, better known as the Tosafots Yom Tov.  Sadly, he passed away after only being in New York for 2 years.
Tags: New York · Pitkin Avenue Cemeteries · Pre 1900
יוסף ב"ר יעקב
Rav, Ados Israel, Hartford, CT
Date of Death: Tue. August 29, 1899 - Elul 23 5659

Tags: Connecticut · Hartford, CT · Pre 1900 · Unknown
Rav in Brooklyn, NY d. 23 Av, 1893 Anyone with information is asked to please send it in. See CONTACT page for details. Directions to kever: Union Field Cemetery 82-11 Cypress Avenue Ridgewood, NY 11385 (Cedar Avenue, Path M, part of a larger stone) Anyone with biographical information for the Rav is asked to send […]
Tags: New York · Pre 1900 · Queens / L.I., NY · Union Field Cemetery - Queens · Unknown
אליעזר ב"ר משה יהודה
Rav, Congregation Chevra Talmud Torah, New York City
Date of Death: Tue. December 31, 1889 - Teves 8 5650

Tags: New York · Pre 1900 · Queens / L.I., NY
Spiritual Leader of Congregation Shearith Israel d. 6 Tamuz, 1816 Rev Seixas was not an ordained Rabbi, but as the only religious official in the congregation, functioned as spiritual leader, interpreter of religious law, supervisor of kashruth, officiated at marriages and funerals and all the varied duties we now associate with an ordained rabbi. Anyone […]
מאיר ב"ר משה
Mohel, Richmond and Petersburg, VA as well as in Philadelphia
Date of Death: Sun. August 2, 1818 - Tammuz 29 5578

Myer Derkheim performed his first Brit Milah (Jewish ritual circumcision) in Portsmouth, New Hampshire when he was only 26 years old. The final circumcision at which he presided as mohel took place in 1818, the year of his death. During the 44 intervening years, Derkheim traveled the length of the newly created United States and new country in which he had settled, and he officiated at the sacred rite of initiation into the Jewish faith another 75 times; each he recorded faithfully, on these pages. His peregrinations to perform the sacred task took him from Maine to South Carolina, visiting both established Jewish communities and small outposts of Jewish life in rural America. Although Jewish tradition calls for the circumcision to be performed on the eighth day after birth, a close examination of the dates of circumcision in this register reveals that, in practice, many of the circumcisions performed by Derkheim, took place much later. The high neonatal mortality rate that prevailed in the eighteenth century meant that some circumcisions were delayed for health reasons. Derkheim's own son Moses, whose birth and circumcision are both recorded in this register, did not undergo circumcision until he was 11 months old. The dearth of practitioners of the ancient rite and the great distances between Jewish communities meant that circumcisers rarely found their way into the hinterland and some youngsters had to wait years before the mohel came. Jacob Rader Marcus, the doyen of American Jewish history, explicitly referenced the importance of Meyer Derkheim's circumcision register as a testament to the fidelity to their faith, exhibited by the Jews of even the most distant American towns and villages. In addition to his career as an itinerant mohel, Derkheim was one of the founders of the Jewish cemetery in Charleston S.C. in Richmond & Petersburg, VA as well as in Philadelphia.
Tags: General · Pennsylvania · Philadelphia, PA · Pre 1900
שבתי
Rav, Congregation Mikveh Israel, Philadelphia, PA
Date of Death: Thu. November 11, 1897 - Cheshvan 17 5659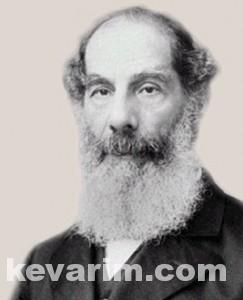 Photo Caption: Rev Shabtai Sabato Morias, Credit: English Hebraica
Bio Information:
Hazan of Mikveh Israel 1851-1897: noted for his anti-slavery sermons. Involved in the education of children and adults, he worked for the Hebrew Sunday School Society, the Hebrew Education Society and the Young Men's Hebrew Association (YMHA). A founder and first president of the Jewish Theological Seminary and professor of Bible there. He worked in behalf of Russian immigrants, settling disagreements between workers and employers.
Adapted: from the Congregation Mikveh Israel website.
Tags: Pennsylvania · Philadelphia, PA · Pre 1900
Spiritual Leader, Congregations Bnai Jeshurun and Shaaray Tefila , New York City
Date of Death: Sun. May 19, 1878 - Iyar 16 5638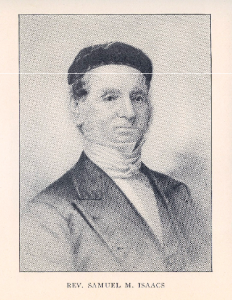 Photo Credit: B'nai Jeshurun
Rav Isaac's primary teacher was Rav Solomon Hirschell (d. 1842), Chief Rabbi of the British Empire. In 1839, with the encouragement of his Rebbe he accepted a position in New York as the spiritual leader (Moreh Dasrah, Chazan, preacher, est.) of Congregation Bnai Jeshurun. He later moved to Congregation Shaaray Tefila.  In 1859 the Rav tried organizing the first American national kehillah.
Tags: Beth Olam · New York · Pre 1900 · Queens / L.I., NY
יעקב משה ב"ר רפאל
Spiritual Leader, Congregation B'nei Jeshurun , New York City
Date of Death: Tue. June 23, 1868 - Tammuz 3 5628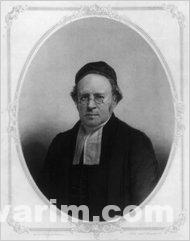 Photo Caption: Rev Morris Jacob. Raphall, c. 1860, Credit: Library of Congress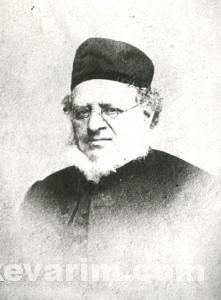 Photo Credit: Rev Morris Jacob. Raphall, Credit: American Jewish Archives
Bio Information:
Rev Moshe Yaakov (Morris Jacob) Raphall was born in Stockholm, Sweden in 1798. At the age of nine his father, a banker, took him to visit the King of Sweden and then to Copenhagen , where he was educated at the Hebrew grammar-school. He later received a Ph.D. degree from the University of Erlangen (Germany). Soon after, he began publishing the Hebrew Review and Magazine of Rabbinical Literature.
In 1840, when the blood accusation was made at Damascus, he published a refutation of it in four languages (Hebrew, English, French, and German) and wrote a defense of Judaism against an anonymous writer in the London Times. The Rev also published a translation of eighteen treatises of the Mishnah; he also began a translation of the Pentateuch, of which only one volume appeared; and a text-book of the post-Biblical history of the Jews (to the year 70 C.E.).
In 1841 he was appointed Moreh Dasrah (minister) of the Birmingham Synagogue (West Midlands), United Kingdom, and the Rosh Yeshiva (head master) of the school. He continued in these capacities for eight years, and then sailed for New York where he was appointed rabbi and preacher of Congregation B'nei Jeshurun. He passed away in New York on June 23, 1868.
Tags: Beth Olam · Needs Repair · New York · Pre 1900 · Rosh Yeshiva
ישראל דוב ב״ר אשר
Talmid of Rav Nosson Adler of Frankfurt am Mein
Date of Death: Fri. April 30, 1852 - Iyar 11 5612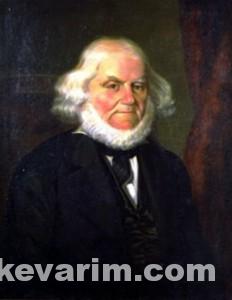 Photo Caption: Portrait of Rev Israel Ber Kursheedt, Photo origination: onthemainline
Bio Notes:
Rev Yisroel Ber Kursheedt is the only known talmid (student) of Rav Nosson Adler the Rebbe of the Chasam Sofer to be buried in the United States. Rev Kursheedt was a contemporary of Rav Avroham Bing and Rav Wolf Heidenheim. It is reported that Rav Adler held these three students in equal esteem  and was quoted to have said Avroham is a charif, Wolf is a medackdek, and Yisroel is a chochem.
Tags: Beth Olam · New York · Pre 1900 · Queens / L.I., NY
יצחק ב"ר אורי
Founding Editor, The Occident
Date of Death: Sat. February 1, 1868 - Shevat 8 5628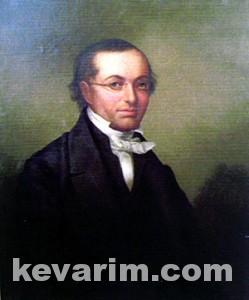 Photo Caption: Rev Isaac Leeser of Philadelphia, Credit: Needed


Photo Caption: Title page of Rev Isaac Leeser's book, Credit: Institute For Judaic Culture and History
Bio Information: 
Rev Isaac Leeser founded The Occident, the first general American Jewish magazine. The Occident is one of the most important records of American Jewish life in the middle decades of the nineteenth century. Rev Lesser was the first Rabbinic authority in the United Stated to introduce a weekly sermon as part of the Shabbos morning service delivered in English. The name Lesser is derived from his grandfather, whose Hebrew name was Eliezer.
Tags: Pennsylvania · Philadelphia, PA · Pre 1900
יואל ב"ר יצחק אלקסנדר
Rav, First Jewish Congregation Beth Israel, Memphis, TN
Date of Death: Fri. August 10, 1866 - Av 29 5626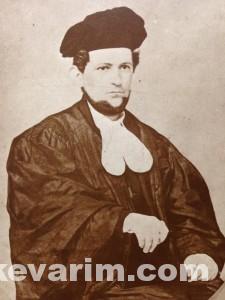 Photo Caption: Rev Yoel Alexander, Credit: Walter J. Addison and Deborah Addison Coburn

Click attached link:
Rev. Joel Alexander MemorialNew

Bio Information:
The Rav was born in Posen and studied at the Yeshiva in Munster, Germany. He was ordained by the great Rabbonim of Posen and Rav Nosson Marcus Adler (d. 1890), Chief-Rabbi of the United Kingdom of Great Britain.  Soon after arriving in New York the Rav was appointed as Hebrew Reader (equivalent of  Chief Rabbi) of the First Jewish Congregation Beth Israel in Brooklyn, NY. He later served in Memphis, TN where he was interred.
Tags: Chief Rabbi · Pre 1900 · Tennessee