Rabbi Yaakov Horowitz

יעקב ב"ר יצחק הלוי
Founder, Horowitz Matzoh Bakery, Lower East Side
Date of Death: Tue. March 31, 1885 - Nissan 15 5645
Pesach
Anyone with biographical information is asked to please send it in.
See CONTACT page for details. Thank you.
Cemetery:
Pesach - Passover (Matzah Bakeries)
,
Union Field Cemetery - Queens
Directions to Kever: Union Field Cemetery in Ridgewood, Queens maintains computerized records and will provide a detailed location map upon request. Location: Needed
Biographical Notes:
Bio Information:
Rabbi Yaakov Horowitz a direct descendant of  Rebbe Shmuel Shmelke HaLevi Horowitz of Nikolsburg (d. 1778) founded the Horowitz Matzoh Bakery on the Lower East Side of New York in 1884.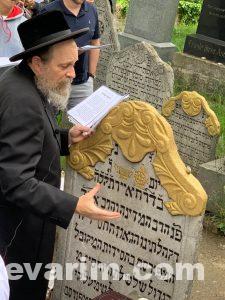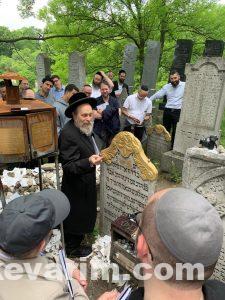 Photo Caption: Rav Moshe Weinberger, Aish Kodesh, Woodmere, NY at the tzion of Rebbe Shmuel Shmelke HaLevi Horowitz of Nikolsburg in Mikulov, Czech Republic, Credit: Aish Kodesh
« Previous: Rabbi Chaim Shraga Brodsky
Next: Rabbi Nosson Nuta Afraimovitch »