Rabbi Yosef Eliyahu Fried

יוסף אליהו ב"ר יהודא ליב
Shukyaner Rav
Date of Death: Mon. May 9, 1927 - Iyar 6 5687

Anyone with biographical information is asked to please send it in.
See CONTACT page for details. Thank you.
Cemetery:
Mount Judah Cemetery - Ridgewood (Queens)
Directions to Kever: Mount Judah Cemetery in Ridgewood, Queens maintains computerized records and will provide a detailed location map upon request. Location: Society: JESHURAN OF HARLEM, Section: 1, Block: T, Gate: 3
Name Listed on Cemetery Database: FRIED, JOSEPH
Biographical Notes: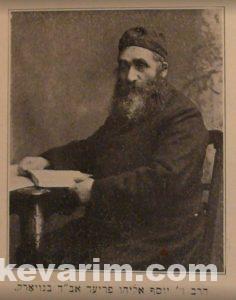 Credit: N/N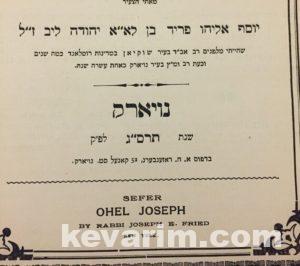 Photo Caption: Title page, Ohel Yosef, Credit: IFJCAH
Bio Information:
Rav Fried rabbinated at the Eldridge Street Synagogue on the Lower East Side.
« Previous: Rabbi Avroham Besdin
Next: Rabbi Yitzchok Sodden »