Rabbi Guttel Grossman

גוטל ב"ר דוב
Chief Rabbi, Allentown, Pennsylvania
Date of Death: Mon. July 29, 1929 - Tammuz 21 5689

Anyone with biographical information is asked to please send it in.
See CONTACT page for details. Thank you.
Cemetery:
Congregation Sons of Israel - Allentown
Directions to Kever: Congregation Sons of Israel Cemetery also known as Agudas Achim and Shaarei Sholom Cemetery is located in Whitehall Township (Fullerton), Pennsylvania. Whitehall Township is a suburb of Allentown. Location: Past the fence in the Agudas Achim Section Note: Whitehall Township should not be confused with the town of Whitehall, neighboring Pittsburgh.
Name Listed on Cemetery Database: Rev Gutel Grossman
Biographical Notes:

Source: Congregation Sons of Israel, Allentown, PA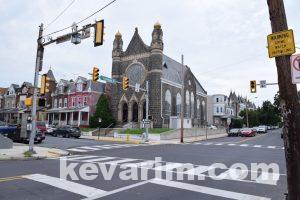 Photo Caption: Former home of Congregation Sons of Israel located on the corner of Tilghman and 6th Street as it stands today, Credit: Asher Lowy


Source: Google
« Previous: Rabbi Elchonon Pesach Gordon
Next: Rabbi Tzvi Hersh Kohn »