Original Hand Matzos Company

Lower East Side, New York City
Date of Death: Mon. March 28, 1921 -

Anyone with biographical information is asked to please send it in.
See CONTACT page for details. Thank you.
Cemetery:
Pesach - Passover (Matzah Bakeries)
Directions to Kever:
Biographical Notes: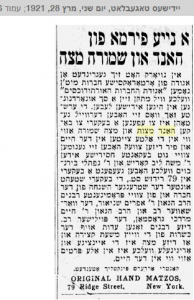 Source: Yiddish Togblatt, March 28, 1921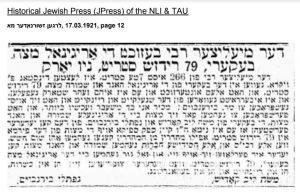 Source: Listed
Bio Information:
The Original Hand Matzos Company was owned by Moshe Leib Korish and his partner Naftali Bernbaum. The bakery was located at 79 Ridge Street on the Lower East Side and appealed to NYC's chassidisher population. Production was under the rabbinic supervision of Rabbi Ephraim Shneur, Varshivar Rav and Rabbi Naftali Grossman, Polisher Rav.
« Previous: Rabbi Yehuda Leib Seltzer
Next: Rabbi Hillel Bodek »