Rabbi Avroham Nachman Shwartz

אברהם נחמן ב"ר חיים
Rosh Av Bais Din of Baltimore, MD
Date of Death: Thu. February 4, 1937 - Shevat 23 5697

Anyone with biographical information is asked to please send it in.
See CONTACT page for details. Thank you.
Cemetery:
Har HaMenuchos - Jerusalem
,
Rosedale Cemeteries - Rosedale (Baltimore)
Directions to Kever: Rosedale Cemeteries is located in Rosedale, Maryland. Rosedale is located about 5 minutes northeast of Baltimore, Location: Shomrei Mishmeres Cemetery. The Rav was later moved to Har Hamenuchos in Jerusalem, location needed.
Name Listed on Cemetery Database: Moved To Har Hamenuchos
Biographical Notes: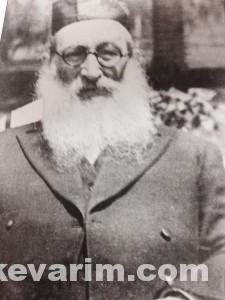 Photo Caption: Rabbi Avroham Nachman Shwartz, Credit: Jewish Museum of Maryland 
« Previous: Rabbi Hillel Mihaly
Next: Rabbi Yosef Rosen »