Rabbi Chaim Glatzer

חיים ב"ר יעקב
Congregation Tiferes Zion, Newark, NJ
Date of Death: Thu. August 18, 1949 - Av 23 5709

Anyone with biographical information is asked to please send it in.
See CONTACT page for details. Thank you.
Cemetery:
Newark Jewish Cemetery - Grove Street Newark
Directions to Kever: The Talmud Torah Cemetery is part of the Newark Jewish Cemetery network and is located at 616 S Orange Avenue in Newark, NJ. Although in a constant state of cleanup, the Newark Jewish Cemetery is in extreme disarray and can be dangerous, use caution when visiting!!! In addition to the actual cemetery, the surrounding areas have long past their prime, visiting as a group or waiting until Annual Newark Cemetery Visiting Day in September is strongly recommended. Should an Emergency arise call 911. Location: Talmud Torah Cemetery located at 616 S Orange Avenue, Section: Cong. Tifereth Zion (3rd society at the left of the path when coming from the South Orange entrance). The highway in the background is the Garden State Parkway
Biographical Notes:
The Rav was born in the town of Kobrin (a suburb of Grodno), his father who was of chasidic descent sent him to study at the yeshiva Lomsha and thereafter in Slabodka where he was considered a prize student of Rabbi Moshe Mordechai Epstein.
The Rav was ordained by the leading Rabbanim of the generation among them Rav Yosef Zundel Salant and Rav Meir Atlas of Kobrin. After serving in various communities in Eastern Europe, Rav Glotzer settled in Newark, NJ. He soon joined the ranks of the Agudath Harabonim, Agudath Harabonim of New Jersey, and the Vaad Harabonim of Newark. The Rav was also a founding member of Yeshiva Tomchei Timmen Lubavitch of Newark.
Rav Glotzer safer (book) titled Pri Chaim remains in manuscript form.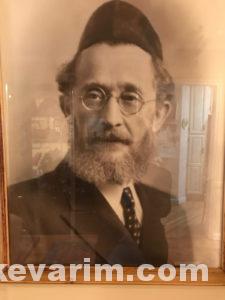 Photo Caption: Rabbi Chaim Glatzer, Credit: Moreshes Chachmei America