Rabbi Chaim Leibowitz

חיים ב"ר שמואל
Rav, Mapleton, Brooklyn
Date of Death: Thu. June 30, 1938 - Tammuz 1 5698
Rosh Chodesh
Anyone with biographical information is asked to please send it in.
See CONTACT page for details. Thank you.
Cemetery:
Beth David Cemetery - Long Island
Directions to Kever: Beth David Cemetery in Elmont, NY maintains computerized records and will provide a detailed location map upon request. Location: Section: A, Block: 9 along Emanuel Ave between Jackson & Monroe Avenues

Name Listed on Cemetery Database: Needed
Biographical Notes: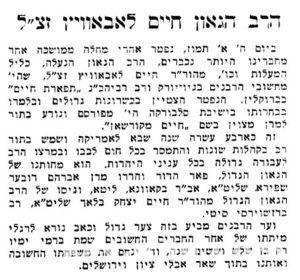 Credit: Hamsiloh, Vol: 3, No: 6-7

Mapleton is a neighborhood in Brooklyn, which borders Bensonhurst and Borough Park to the west, and Midwood to the east. The neighborhood was sometimes known as Mapleton Park.
« Previous: Rabbi Mordechai Francovitch
Next: Rabbi Moshe Meir Matlin »