Rabbi Chaim Yaakov Rosner

חיים יעקב ב"ר יהושע העשיל
Tortzol Rav
Date of Death: Mon. August 28, 1989 - Tammuz 25 5749

Anyone with biographical information is asked to please send it in.
See CONTACT page for details. Thank you.
Cemetery:
Wellwood Cemetery - West Babylon (Farmingdale)
Directions to Kever: Wellwood Cemetery in Long Island maintains computerized records and will provide a detailed location map upon request. Location: Block: 28, Row: 5, Grave: 11, Society: CONG ARUGATH HABOSEM, along South Avenue, to the right of the Tezelmer Rav's ohel.



Name Listed on Cemetery Database: RABBI EUGENE ROSNER
Biographical Notes: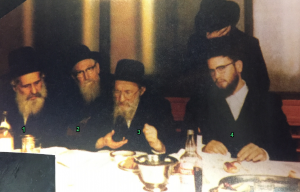 Photo Caption: At a Sheva Brachos (c. 1970), Source: Inyan Magazine, November 6, 2019
1. Rav Chaim Yaakov Rosner, Tortzol Rav
2. Unknown
3. Rebbe Eliezer Zusya Portugal, Skulener Rebbe
4. Choson (unknown)
« Previous: Rabbi Aaron Teitelbaum
Next: Rabbi Moshe Aaron Poleyeff »