Rabbi Aaron Teitelbaum

אהרן ב"ר יעקב יצחק הלוי
Rav, New York City
Date of Death: Wed. August 16, 1950 - Elul 3 5710

Anyone with biographical information is asked to please send it in.
See CONTACT page for details. Thank you.
Cemetery:
Sanhedriya Jerusalem Cemetery - Jerusalem
Directions to Kever: Sanhedriya Cemetery is located at the entrance of Sanhedria neighborhood in Yerushalayim (Jerusalem), Location: Needed
Biographical Notes:



Photo Caption: Rabbi Aaron Teitelbaum, a prominent member of the Agudath Arabonim was among the over 400 Rabbanim and Admorim who on the day before Erev Yom Kippur, 1943 marched on Washington demanding that the Roosevelt administration help save the Jews of Europe. Credit: IFJCAH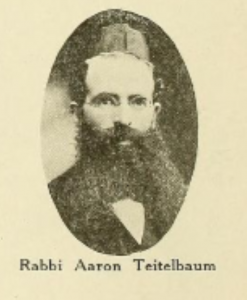 Source: Four years of relief and war work by the Jews of America, 1914-1918
Note:
Rav Teitelbaum should not be confused with Grand Rebbe Aaron Teitelbaum of Satmar.
« Previous: Rabbi Chaim Shimon Goldstein
Next: Rabbi Chaim Yaakov Rosner »