Rabbi Dovid Rodinsky

דוד ב"ר אברהם
Rav, Bais Medrash HaGadol of Brownsville, Brooklyn
Date of Death: Fri. March 2, 1917 - Adar 8 5677

Anyone with biographical information is asked to please send it in.
See CONTACT page for details. Thank you.
Cemetery:
Mount Carmel Cemetery Section 1 and Office - Glendale (Queens)
Directions to Kever: Mount Carmel Cemetery in Glendale, Queens maintains computerized records and will provide a detailed location map upon request. Location: Section: 1 (office side), Block: E, Map: 7, Line: 5, Society: BETH H H OF BROWNSVILLE, towards the back on the right side
Name Listed on Cemetery Database: Not listed
Biographical Notes: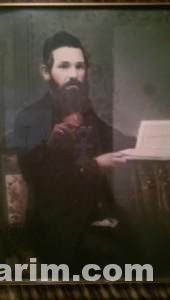 Photo Caption: Rav Dovid Radinsky, Credit: Sam Herzberg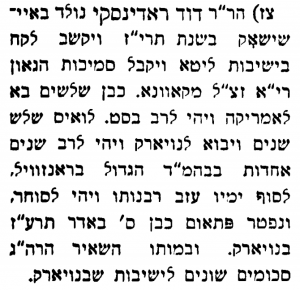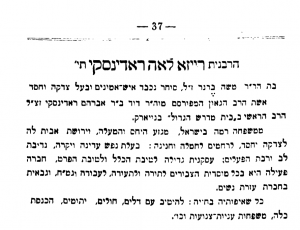 Source:  Eisenstadt, Ben-Zion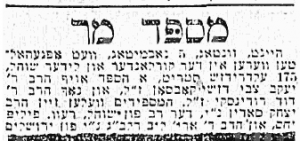 Source: The Jewish Morning Journal, March 10, 1917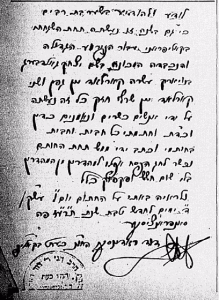 Source The Jewish Morning Journal, March 15, 1917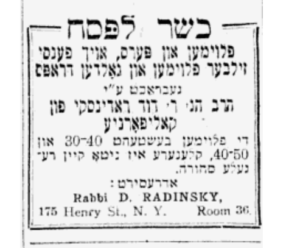 Credit: Moreshes Chachmei America
Bio Information:
Rav Radinsky, a founding member of the Agudath HaRabonim was among the prominent rabbonim in Brownsville and East New York. Prior to his arrival in New York, he rabbinated in St. Louis, Missouri, Denver, Colorado,  and San Francisco, California.