Rabbi Reuvain Maier

ראובן ב"ר מאיר
Rav, Congregation B'nai Abraham "Rumanian Schil", Minneapolis
Date of Death: Mon. February 27, 1967 - Adar I 17 5727

Anyone with biographical information is asked to please send it in.
See CONTACT page for details. Thank you.
Cemetery:
New Montefiore Cemetery - West Babylon
Directions to Kever: New Montefiore Cemetery in West Babylon on Long Island should not be confused with Old Montefiore Cemetery in Springfield Gardens, Queens. Location: Section: 5; Block: 7; Row: 3; Grave: 32R; Society Name: BURIAL GROUNDS OSZ CAMPS, Closest intersection = 2ND. AVE. SOUTH / MACHPELAH ROAD
Name Listed on Cemetery Database: REUBEN MAIER
Biographical Notes: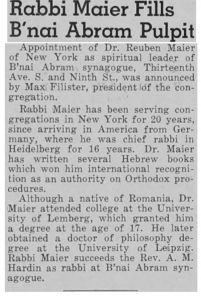 Source: The American Jewish World, August 29, 1947, Credit: The National Library of Israel
Bio Information: 
Rabbi Maier's wife Sophie was the daughter of Rabbi Alexandru Șafran, the chief rabbi of Romania. In addition to Minneapolis, Rabbi Maier rabbinated in Hibbing, Minnesota, and Brooklyn, New York. 
« Previous: Rabbi Yitzchok Bunin
Next: Rabbi Eliyahu Dovid Stampher »