יוסף דוב ב"ר יהודה ליב
Rav, Congregation Brisk D'Lita, Newark, New Jersey
Date of Death: Wed. October 18, 1939 - Cheshvan 6 5700

Bio Information:
The Rav who hailed from England started his carer at Grimsby Hebrew Congregation in Lincolnshire, England. He later moved to South Africa where he officiated at the Roeland Street Synagogue in Cape Town and thereafter at South Portland Street Synagogue, Glasgow, Scotland. In 1910 the Rav relocated to the United States and settle in Washington, DC and was installed as the rabbi at Adas Israel Synagogue. He would go on to serve in  St. Louis, MO, Detroit, MI, and Newark, NJ. In addition, to being an ordained rabbi, Rav Glushak was a talented cantor.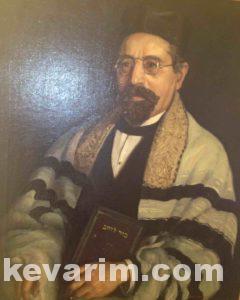 Photo Caption: Rav Yosef Dov Glushak, Credit: Steven Weinreich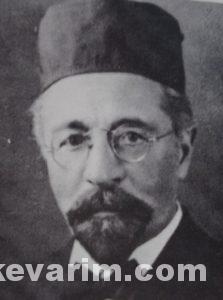 Credit: Brent Stevens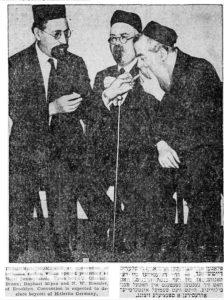 Credit: Moreshes Chachmie America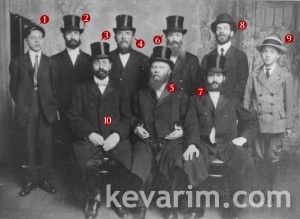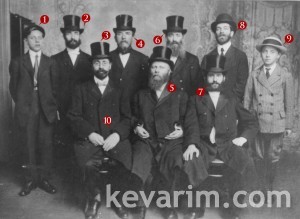 Photo Caption: Delegation of Rabbonim To Washington, DC c.1912
1. Unknown child
2. Rav Yitzchok Siegel, Bayonne, NJ
3. Rev Yosef Dov Glushok, Washington, DC
4. Rav Avroham Alperstein, New York City
5. Rav Gedaliah Silverstone, Washington, DC
6. Rav Dovid Ginsburg, Wilkes-Barre, PA
7. Rav Eliezer Silver, Harrisburg, PA
8. Rav Yaakov Redelheim, New York City
9. Unknown child
Tags: New York · Queens / L.I., NY
ישראל יוסף ב"ר אלטר אליעזר
Chief Rabbi, Riglitz
Date of Death: Fri. August 9, 1968 - Av 15 5728
Tu B'Av
Tags: Montefiore Cemetery · New York · Queens / L.I., NY
מרדכי אהרן ב"ר הכהן
Rav, Congregation Nachlas Tzvi, Harlem
Date of Death: Tue. February 20, 1951 - Shevat 23 5701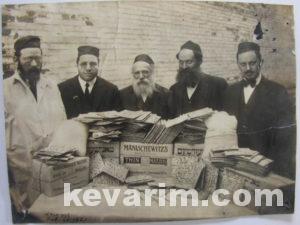 Photo Caption: (L-R) Rav Mendel Hochstein (white coat), Rav Kapaln, Rav Avroham Aaron Yudelovitch, Rav Binyamin Levy, Mr. Tzvi Hirsch Manischevitz, c. 1921, Credit: Yitzchok Shteierman, Borough Park, Brooklyn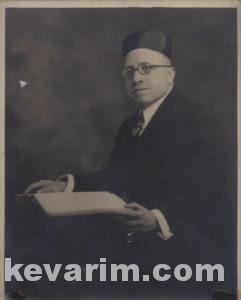 Photo Caption: Rav Kaplan, Credit: Yitzchok Shteierman, Borough Park, Brooklyn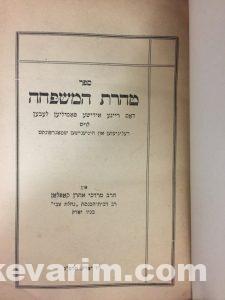 Credit: IFJCAH
Hapardis obituary for Rav Kapaln:
KaplanBP
Hamodia article on Rav Kapaln:
Harav Mordechai Aaron Kaplan 1
Harav Mordechai Aaron Kaplan 2

Bio Information:
The Rav,  a prominent member of the Agudath Harabonim was also the Moreh Dasrah of Congregation Bnai Yehuda, Brooklyn on 16th Avenue (53rd Street) in Boropark. He was also among the over 400 Rabbanim and Admorim who on Erev Yom Kippur, 1943 marched on Washington demanding that the Roosevelt administration help save the Jews of Europe.
Tags: Montefiore Cemetery · New York · Queens / L.I., NY
יעקב ב"ר ניסן
Rav, Old Broadway Synagogue, New York City
Date of Death: Wed. February 7, 2007 - Shevat 19 5767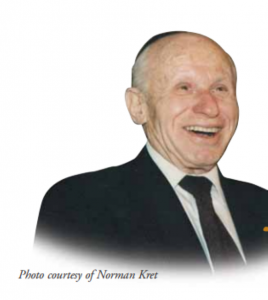 Photo Caption: Rabbi Yaakov Kret: Credit: Listed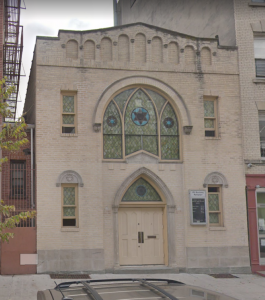 Photo Caption: The Old Broadway Synagogue (Chevra Talmud Torah Anshei Marovi) as it stands today at 15 Old Broadway in New York City, Credit: Google
Bio Information:
The Old Broadway Synagogue is the better-known name of our congregation, the Chevra Talmud Torah Anshei Marovi. we were founded in 1911 in the West Harlem neighborhood of Manhattanville by a small group of Eastern European Jewish immigrants. The congregation originally met in storefronts and in the back of a bar until we built our own building in 1923 on Old Broadway. The congregation was active in the 1920s, 1930s, and 1940s, but by 1950 was struggling when we hired Rabbi Jacob Kret. Together with his wife, Chana, Rabbi and Mrs. Kret brought the shul back to life by recruiting new congregants, at that point, mostly Holocaust survivors. Many of these people moved on, but by this time, Rabbi Kret was a Talmud tutor at the Jewish Theological Seminary. He recruited students from JTS and later also from Columbia (he was a regular at Columbia's daily minyan and was the mashgiach in the Barnard kosher kitchen). For me Rabbi Kret embodied an ideal of Jewish authenticity: knowledgeable, observant, welcoming, warm and loving. We are doing our best to follow in his footsteps.
In 2001, the shul was listed on the State and National Registers of Historic Places.
Source: Paul (The Old Broadway Synagogue Blog)
Tags: Montefiore Cemetery · New York · Queens / L.I., NY
חיים ליב ב"ר יעקב דוב
Baal (author), Ariel
Date of Death: Thu. October 19, 1939 - Cheshvan 6 5700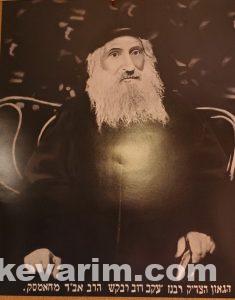 Photo Caption: Rav Yaakov Dovid Rifkish, Credit: David S. Rosenthal, DC
In Memorial:
Rav Shmuel Eliezer HaLevi Eidels (d.1631), Maharsha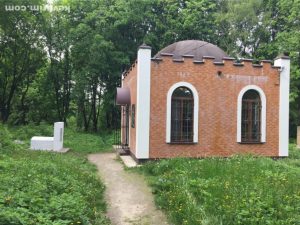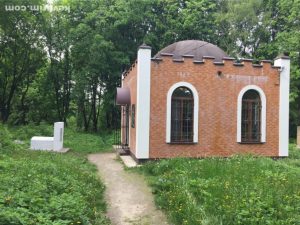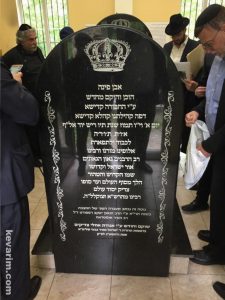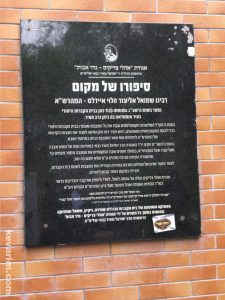 Photo Caption: Ohel and kever of Maharsha, Ostrog, Ukraine, Credit: INSTITUTE FOR JUDAIC CULTURE AND HISTORY
Note: The noted askonim, Eli Glaser and Joel Shafran of Kew Gardens Hills can be seen in the second photo.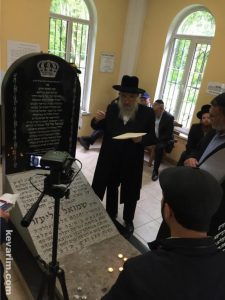 Photo Caption: Rabbi Noach Isaac Oelbaum, K'hal Nachlas Yitzchok, Kew Gardens Hills, NY at the tzion of Maharsha, May 2019, Credit: IFJCAH
Tags: New York · Queens / L.I., NY
אלכסנדר זיסקינד ב"ר שמואל יוסף
Rav, Kol Yisroel Anshe Poland (Beth Medrash Hagodol Anshe Suvolk), New York City
Date of Death: Tue. June 17, 1952 - Sivan 23 5712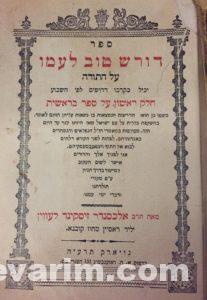 Credit: Institute For Judaic Culture and History (IFJCAH)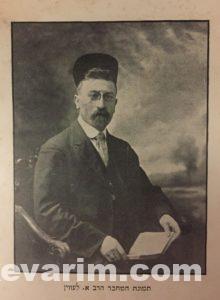 Credit: Institute For Judaic Culture and History (IFJCAH)
Tags: New York · Queens / L.I., NY