Rabbi Shlomo Elchanon Jaffe

שלום אלחנן ב"ר שמעון פרץ
Rav, Bais Medrash HaGadol of Norfolk Street, Lower East Side
Date of Death: Fri. November 16, 1923 - Kislev 7 5684

Anyone with biographical information is asked to please send it in.
See CONTACT page for details. Thank you.
Cemetery:
Mount Judah Cemetery - Queens
Directions to Kever: Mount Judah Cemetery in Rifgewood, Queens maintains computerized records and will provided a detailed location map upon request. Location: Section: 2, Path 20, towards the front of the cemetery
Name Listed on Cemetery Database: JAFFE, SOLOMON (RABBI)
Biographical Notes: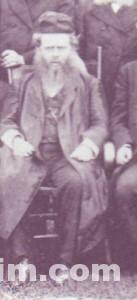 Photo Caption: Rabbi Shalom Elchanon Jaffe at a Agudath Harabonim convention. Credit: Needed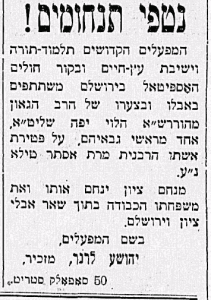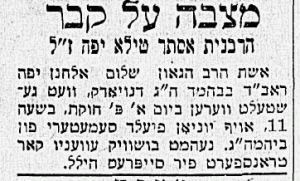 Photo Caption: Advertisement announcing the passing and the unavailing of Esther Jaffe (buried at Union Field), the wife of Rabbi Shalom Elchanon Jaffe, Credit: The Jewish Morning Journal 1916 and 1917 respectively.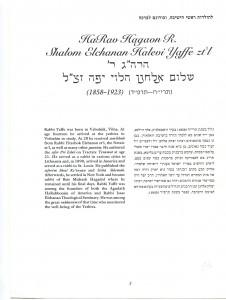 Photo Caption: Picture and short bio of Rav Shalom Elchanon Jaffe, Credit: Yeshiva University

Bio Information:
Rav Shalom Elchonon Jaffe was born in the town of Vabolnick, Lithuania just outside of Vilna in 1858. His primary teacher was his father a noted torah scholar and a descendant of Rav Mordechai Yaffe the Baal Halevushim (d. Posen, Poland, 1612). At the age of fourteen he was sent to the Volozhiner Yeshiva were he studied for six years and was ordained by Rav Naftali Tzvi Yehuda Berlin (Netziv) and Rav Yitzchok Elchonon Spector.
Rav Jaffe participated in the founding convention of the Agudath HaRabonim in 1902 and was appointed director of its kashrus division. In 1905 he was elected its third president and remained an influential member until his passing. He was also among the Rosh Yeshiva at Rabbi Isaac Elchanan Theological Seminary.