Rabbi Dr. Elyakim Yehuda Goldberg, MD

אליקים יהודה ב"ר יעקב
Kelemer Iluy
Date of Death: Fri. February 28, 1941 - Adar 1 5701
Rosh Chodesh
Anyone with biographical information is asked to please send it in.
See CONTACT page for details. Thank you.
Cemetery:
Washington Cemetery - Brooklyn
Directions to Kever: The Washington Cemetery in Brooklyn, New York maintains detailed burial records and will provide assistance upon request. Location: Don Abarbanel Lodge, Section 4, post 353 (on Ash Street).
Name Listed on Cemetery Database: Name listed on marker: Leo G. Goldberg MD
Biographical Notes:
Rabbi Yehuda Goldberg, also known as Leo Gustav Goldberg M.D.  was a brilliant fusion of Torah and Gedulah. Born in Lithuania, he was referred to by many as  "the genius of Kelm." As a young man, Rav Yitzchok Elchonon Spector hired him to learn with his son, Rav Tzvi Hirsh. He was also a close friend of Rabbi Yaakov Yosef Joseph,  who would later become the Chief Rabbi of New York City.
At the request of Nathaniel Mayer Rothschild (Baron de Rothschild), he emigrated to the Holy Land. However, his strict Torah standards but him at odds with unscrupulous members of the Zichron Yaakov community, forcing him to emigrate to America.  Once on these shores, he settled in Crown Heights section of Brooklyn where he was installed as Rav of Congregation Tomchei Torah on Eastern Parkway.
As a prestigious medical doctor, he used his profession to aid his fellow Jews in any way possible.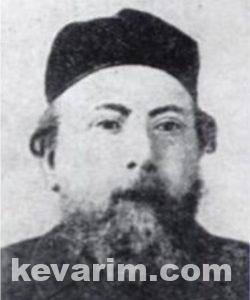 Photo Caption: Rav Tzvi Hersh Rabinowitz (Spector), Credit: N/N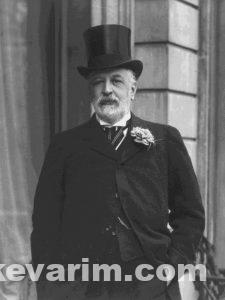 Photo Caption: Baron Nathaniel Mayer Rothschild, d. 1915, Credit: N/N
« Previous: Rabbi Schneur Zalaman Velenkin
Next: Rabbi Nachman Nosson Yona Kurland »