Rabbi Yechiel Meir Burgeman

יחיאל מאיר ב"ר דוד
Tzaddik Nister (Hidden) of Rochester
Date of Death: Thu. December 1, 1938 - Kislev 8 5699

Anyone with biographical information is asked to please send it in.
See CONTACT page for details. Thank you.
Cemetery:
Britton Road Cemetery - Rochester
Directions to Kever: Britton Road Cemetery in Rochester, New York, Location: See Map picture below
Biographical Notes: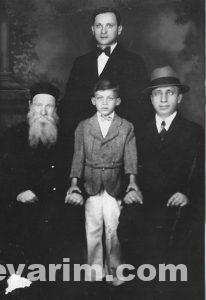 Photo Caption: Rabbi Yechiel Meir Burgeman –Burgerman, his son Avroham (wearing hat), grandson Binyomim (standing) and great-grandson Yaakov, Photo Credit: Kalman Burgeman
Bio Information: 
The Rav counted among his students two of the Amshinover Admorim.