Rabbi Mordechai Geller

מרדכי ב"ר יעקב
Rav, Congregation Beth Jacob, Houston, Texas
Date of Death: Mon. July 11, 1966 - Tammuz 23 5726

Anyone with biographical information is asked to please send it in.
See CONTACT page for details. Thank you.
Cemetery:
Beth Jacob Cemetery - Houston
Directions to Kever:
Name Listed on Cemetery Database: Name listed on marker: Rabbi Max Geller
Biographical Notes: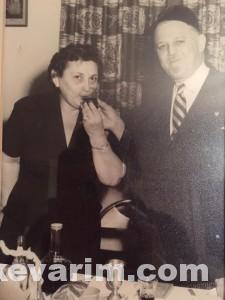 Photo Caption: Rabbi Mordechai Geller and his wife Sadie, Credit: Julie Geller
Bio Information:
The Rav was the fist Texan born musmach (ordained rabbi).