Rev Yaakov Moshe Raphall

יעקב משה ב"ר רפאל
Spiritual Leader, Congregation B'nei Jeshurun , New York City
Date of Death: Tue. June 23, 1868 - Tammuz 3 5628

Anyone with biographical information is asked to please send it in.
See CONTACT page for details. Thank you.
Cemetery:
Beth Olam Cemetery Bnai Jeshurun Section - Queens
Directions to Kever: The Beth Olam Cemetery is located on the Eastern side (towards Queens) of the Jackie Robinson Parkway on the Cypress Hills / Ridgewood border in Queens. The cemetery is kept in pristine condition however, unfortunately their records are in total disarray and paths are not well marked. Location: Second entrance (coming from the Jackie Robinson Parkway) , after cul-de-sac, enter path between section 21 and 22 (Dessau and Russak), proceed until Sommers tombstone and go left down path (same path as the Mitchell mausoleum) third grave in.), Section: 11, Lot: 8, Grave: G
Name Listed on Cemetery Database: Rev Morris Jacob Raphall
Biographical Notes: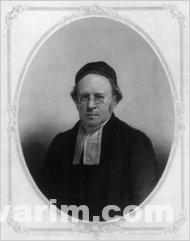 Photo Caption: Rev Morris Jacob. Raphall, c. 1860, Credit: Library of Congress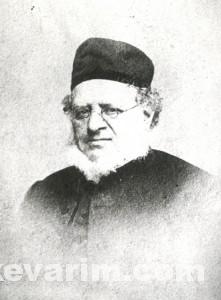 Photo Credit: Rev Morris Jacob. Raphall, Credit: American Jewish Archives
Bio Information:
Rev Moshe Yaakov (Morris Jacob) Raphall was born in Stockholm, Sweden in 1798. At the age of nine his father, a banker, took him to visit the King of Sweden and then to Copenhagen , where he was educated at the Hebrew grammar-school. He later received a Ph.D. degree from the University of Erlangen (Germany). Soon after, he began publishing the Hebrew Review and Magazine of Rabbinical Literature.
In 1840, when the blood accusation was made at Damascus, he published a refutation of it in four languages (Hebrew, English, French, and German) and wrote a defense of Judaism against an anonymous writer in the London Times. The Rev also published a translation of eighteen treatises of the Mishnah; he also began a translation of the Pentateuch, of which only one volume appeared; and a text-book of the post-Biblical history of the Jews (to the year 70 C.E.).
In 1841 he was appointed Moreh Dasrah (minister) of the Birmingham Synagogue (West Midlands), United Kingdom, and the Rosh Yeshiva (head master) of the school. He continued in these capacities for eight years, and then sailed for New York where he was appointed rabbi and preacher of Congregation B'nei Jeshurun. He passed away in New York on June 23, 1868.
« Previous: Rebbe Chaim Friedlander
Next: Rabbi Elozer Meisels »