Rabbi Moshe Berman

משה ב"ר שרגא פייביל
Rav, Congregation Agudath Achim, Los Angeles, California
Date of Death: Thu. November 13, 1930 - Cheshvan 22 5691

Anyone with biographical information is asked to please send it in.
See CONTACT page for details. Thank you.
Cemetery:
Agudas Achim Cemetery - Los Angeles
Directions to Kever: The Agudath Achim Cemetery is not located near any of the Jewish neighborhoods in Los Angeles and does not have an on grounds caretaker. Access is 24-hours via the front gate. Combination: 7613 then push latch in. Location: North side, Ohel. There are no markings on the tombstone other than "Rabbi Berman", it is therefore assumed that this in the same Rabbi Berman listed in the 1925 Agudath Harabonim roster as Rav Moshe b. Shraga Feivel Berman.
Name Listed on Cemetery Database: Name listed on marker: Rabbi Berman
Biographical Notes: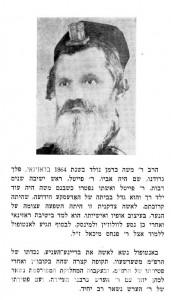 Photo Credit: Needed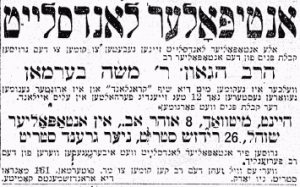 Credit: The Jewish Morning Journal, August 23, 1921
Bio Information:
Rabbi Moshe Berman was born in 1864 in Razinoi, White Russia, where his father, Reb Feitl, had been Rosh-Yeshiva for many years. Both his parents having died when he was still a boy, young Moshe grew up at the house of the famous charitable woman Hodeske, who was related to him through her husband. This wonderful woman had an enormous influence on the boy, and contributed immensely to the formation of his moral and personal character. He learned at the Razinoi Yeshiva, and later at Volozin and Minsk Finally he came to Antopol, where he studied under the guidance of Rabbi Pinchas Michael O.B.M.
In Antopol he married Breine-Henie, grand-daughter of Rabbi Pinchas Michael, and following the wedding he spent some time in Kobrin. When the R.P.M. died, and following the Grand Dispute about his successor, Rabbi Moshe became Rabbi together with Rabbi Hersh. After that Rabbi Hersh passed away, Rabbi Moshe continued as the only successor.
Rabbi Moshe was a quiet man, always at study and the interests of the community close to his heart.
After the end of World War One he was brought over to the U.S.A. by his devoted sons, who had long before preceded him: Dr. P. Berman, and Mr. P. Berman.
In 1921 Rabbi Moshe was appointed Rabbi of the Agudath Achim Congregation in Los Angeles. He soon received recognition from most of the orthodox Jewry, and was elected to be Chief Justice of the orthodox rabbinical court of Los Angeles. Being aware of the special circumstances in keeping Judaism in America, he was an understanding Judge in religious matters. He himself sat all day long studying in the synagogue, and upon coming back home he continued till late at night.
Rabbi Moshe carried a continuous correspondence with many rabbis in the U.S.A. and was respected by all who knew him.. Ten years he sat on the rabbinical chair in Los Angeles, Until he was called to Heaven on Heshvan 22, 5691 (1930).
For many years after his death they used to hold a special mourning meeting in his honor on the day of his Yorzeit, even after the synagogue had moved to another suburb.
From The Desk Of: Zev Zions
« Previous: Rebbe Meir Leifer
Next: Rabbi Moshe Yehuda Rabinowitz »