Rabbi Moshe Cohen

משה הכהן
Rav, Kahal Kadosh Beth Elohim (KKBE), Charleston, South Carolina
Date of Death: Mon. April 19, 1762 - Nissan 16 5522
Pesach / Passover
Anyone with biographical information is asked to please send it in.
See CONTACT page for details. Thank you.
Cemetery:
Coming Street Cemetery - Charleston
Directions to Kever: Coming Street Cemetery located in Charleston South Carolina is not open to the public.
Name Listed on Cemetery Database: R.R. Moses Cohen, D.D.
Biographical Notes: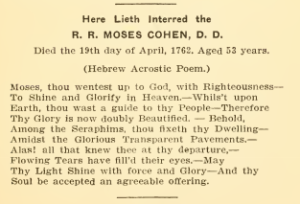 Credit: Needed
Bio Information: 
Rev Moshe HaCohen