Rabbi Moshe Sneider

משה ב"ר מנחם מענדיל
Rav, Bronx, New York
Date of Death: Fri. April 22, 1988 - Iyar 5 5748

Anyone with biographical information is asked to please send it in.
See CONTACT page for details. Thank you.
Cemetery:
Baron Hirsch Cemetery - Staten Island
Directions to Kever: Baron Hirsch Cemetery in Staten Island maintains computerized records and will provide a detailed location map upon request. The cemetery is in extreme disarray with poorly paved roads, missing signs, and countless overturned tombstones. Exercise caution when visiting especially after office hours. Should an actual emergency occur call 911 or Staten Island Shomrim Safety Patrol: 718-370-2121. Location: Along First Street, between Avenue A and C.
Biographical Notes: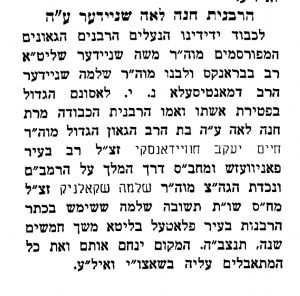 Source: Hamaor Rabbinical  Journal


Photo Caption: Rabbi Moshe Sneider, Credit: MCA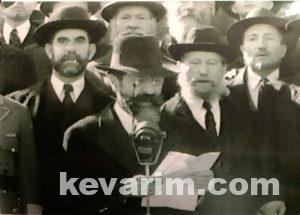 Photo Caption: Standing being Rabbi Zev Gold and Rabbi Eliezer Silver, Washington, DC, 1943, Credit: MCA
Bio Information:
Rav Sneider was among the over 400 Rabbanim and Admorim who on the day before Erev Yom Kippur, 1943 marched on Washington demanding that the Roosevelt administration help save the Jews of Europe.
« Previous: Rabbi Menachem Mendel Greenfield
Next: Rabbi Avroham Dov Epstein »