Rabbi Meir Tzvi Hirsch

מאיר צבי ב"ר יצחק אריה
Rav, Congregation Anshey Sfard, San Francisco, California
Date of Death: Sat. August 3, 1946 - Av 6 5706

Anyone with biographical information is asked to please send it in.
See CONTACT page for details. Thank you.
Cemetery:
Eternal Home Cemetery - Colma (San Francisco)
Directions to Kever: Eternal Home Cemetery in Colma maintains computerized records and will provide a detailed location map upon request. Colma is around 20 minutes from San Francisco.
Name Listed on Cemetery Database: Name listed on marker: Rabbi Mayer Hirsch
Biographical Notes: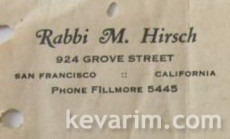 Credit: Institute For Judaic Culture and History (IFJCAH)