Rabbi Nachum Yisroel Brenner

נחום ישראל ב"ר שלמה זלמן
Rav, B'nai Israel Ansche Poland of Philadelphia
Date of Death: Sat. February 11, 1939 - Shevat 22 5699

Anyone with biographical information is asked to please send it in.
See CONTACT page for details. Thank you.
Cemetery:
Har Nebo Cemetery - Philadelphia
Directions to Kever: Har Nebo Cemetery in Philadelphia, Pennsylvania maintains detailed burial records and will provide assistance upon request. Location: See picture below
Biographical Notes:
Photo Caption: Rav Nachum Yisroel Brenner, Credit: MCA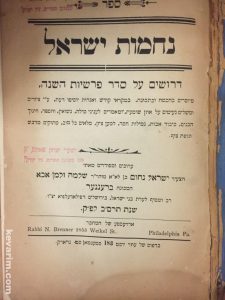 Credit: IFJCAH
Bio Information:
The Rav, who was born in Lithuania and studied at the Yeshiva in Kovno, held several positions in Philidelphia, spanning a carrier of over 40 years in the city.
« Previous: Rabbi Avroham Eliyahu Akselrod
Next: Rabbi Tzvi Yaakov Goldberg »