Rabbi Noach Menachem Mendel Stamm

נח מנחם מנדיל ב"ר זוסמן
Rav, Norwich, Connecticut
Date of Death: Tue. March 30, 1937 - Nissan 18 5697
Chol Hamoed Pesach
Anyone with biographical information is asked to please send it in.
See CONTACT page for details. Thank you.
Cemetery:
Brothers of Joseph Cemetery - Preston (Norwich)
Directions to Kever: Brothers of Joseph Cemetery along Laurel Hill Road (CT Rt. 12) is located in Preston, Connecticut and is part of the larger Norwich Hebrew Benevolent Association. The City of Preston is just east of Norwich. The cemetery is always open. Location: Norwich Hebrew Benevolent # 1 (see map below).
Name Listed on Cemetery Database: Name listed on marker: Rabbi Max Stamm
Biographical Notes: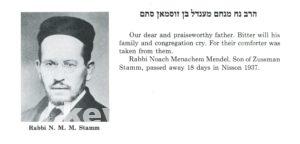 Credit: Chachmei Yisroel Of New England 
« Previous: Rabbi Baruch Ettelsohn
Next: Rabbi Moshe Yitzchok Braver »