Rabbi Moshe Yitzchok Braver

משה יצחק ב"ר אביגדור
Chief Rabbi, Sioux City, Iowa
Date of Death: Mon. April 13, 1936 - Nissan 21 5696
Shevii shel Pesach
Anyone with biographical information is asked to please send it in.
See CONTACT page for details. Thank you.
Cemetery:
Independent Farane Jewish cemetery - Sioux City
Directions to Kever: Independent Farane is a Jewish cemetery that is adjacent to Graceland Cemetery in Sioux City. Independent Farane has its own gate, accessible from within Graceland. Note: While originally buried in a mausoleum (ohel), the structure has since been demolished.
Biographical Notes: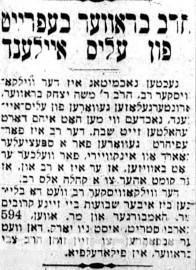 Source: The Morning Journal, June 1924
« Previous: Rabbi Noach Menachem Mendel Stamm
Next: Rabbi Dovid Nosson Lesser »