Rabbi Shaul Yisroel Bolotnikov

שאול ישראל ב"ר שמריהו אליהו
Chief Rabbi, Sioux City, Iowa
Date of Death: Fri. March 31, 1995 - Adar II 29 5755

Anyone with biographical information is asked to please send it in.
See CONTACT page for details. Thank you.
Cemetery:
Independent Farane Jewish cemetery - Sioux City
Directions to Kever: Independent Farane is a Jewish cemetery that is adjacent to Graceland Cemetery in Sioux City. Independent Farane has its own gate, accessible from within Graceland.
Name Listed on Cemetery Database: Name listed on marker: Rabbi Saul I Bolotnikov
Biographical Notes:
Bio Information:
Rabbi Saul Bolotnikov came to Sioux City in 1936 and served all three of its Orthodox congregations, alternating his attendance each Saturday. This arrangement was in place until 1955 when the three congregations merger. He served the community until his death in 1995 at the age of 88.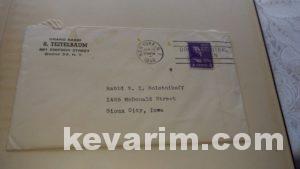 Photo Credit: Moreshes Chachmei America Archives 
« Previous: Rabbi Yosef Dov Hurvitz
Next: Rabbi Ben Tzion Tvalitsky »