Rabbi Shimon Dovid Eider

שמעון דוד ב"ר יעקב יוסף
Rav, Camp Romimu, Monticello, NY
Date of Death: Fri. September 28, 2007 - Tishrei 16 5768
2nd day of Succos
Anyone with biographical information is asked to please send it in.
See CONTACT page for details. Thank you.
Cemetery:
Washington Floral Park Cemetery - Deans
Directions to Kever: Washington Floral Park Cemetery, also know as Deans Cemetery located Monmouth Junction, New Jersey maintains computerized records and will provide a detailed location map upon request. Location: Needed
Biographical Notes: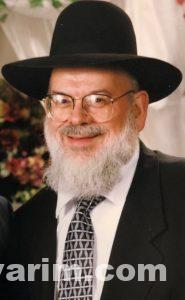 Photo Caption: Rav Shimon Dovid Eider, Credit: Chez Eider
Bio Information: 
Rav Eider who lived in Lakewood, NJ was among the first to write Halacha Seforim (book of Jewish law) in English.